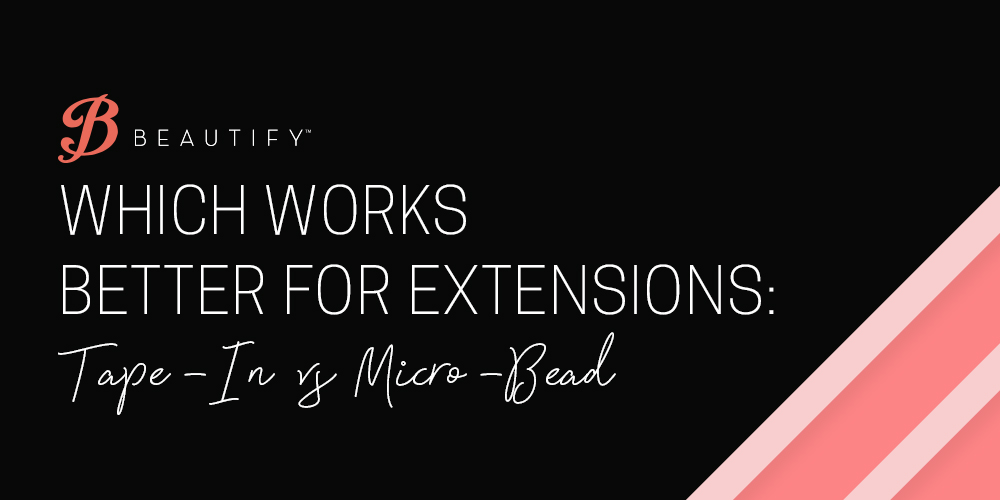 One of the best parts about hair extensions is the fact that there are a lot of different ways they can be installed. Tape-in hair extensions, micro-bead hair extensions, sewn in, etc.This provides flexibility for stylists and clients, making the install and care suit the individual. 
Despite this, there are still a lot of arguments about which kind of install process is better. In particular, there is a lot of debate concerning tape-in extensions vs micro-bead extensions. People are always trying to decide which one is better.
Of course, here at Beautify, we have a bias towards tape. But we want to take a look at both of these methods of install. You may have clients that would do better with one than the other. That's why it's good to know the pros and cons of both.
So, let's start with micro-beads!
Micro-Bead Hair Extensions
Installation Process
Micro-beads are installed by threading small, ringed beads with extensions attached through sections of hair. Then they are clamped into place.
This process is done entirely without adhesive or heat. But it can leave the client's head feeling tender for a little while after installation.
In total, the whole process can take anywhere from one to three hours, depending on how many extensions are being installed.
The extensions need to be removed for reinstall every six to eight weeks. But this time can vary depending on how quick the bio hair grows.
Cost
Micro-beading generally costs the client something between $200-$600. This can, of course, vary depending on the time and quality of extension used.
Care
The care instructions for micro-beaded extensions are similar to most other extensions.
The client can't wash their hair until 48 hours after the install. After that, they should wash their hair every two to three days.
When brushing their hair, clients with micro-beads should use a loop brush. This will help them avoid getting it tangled in the beads.
Swimming
With micro-bead extensions you can swim without too much of a problem. The lack of adhesive and other chemicals used should help keep the water, salt, and chlorine from affecting anything. However, it is a good idea to keep the hair in a swim cap anyway to help avoid tangling in the water.
Removal
Micro-bead hair extensions need to be professionally removed. This is because a special tool, much like a set of pliers, needs to be used to take the beads out. Otherwise the extension and the bio hair might be damaged.
After the removal is done, the client should wait at least two weeks before getting them reinstalled. This is because the process can be a little hard on the scalp. So, it needs time to fully recover.
Now that we have a good idea of the pros and cons of micro-bead hair extensions, let's look at tape-in extensions.
Tape-In Hair Extensions
Installation Process
If you've spent any time on our site, you're probably already familiar with the install process of tape-ins. But let's go over the comparison with micro-beads.
Tape-ins only take about 30 minutes to an hour to install. This can change depending on the number of extensions and how familiar the stylist is with installing them.
The process is done by taping the extensions to sections of hair and then using a quick hit of heat to seal the tape together.
It's a pretty simple and quick process. You can learn more about how the install process is done on our blog.
Cost
Tape-in extensions tend to cost around the same as micro-beads. It generally costs anywhere between $200-$800 for a tape-in install. This cost varies depending on the time it takes, the kind of extensions used, and the kind of tape used.
Care
Like with micro-beads, there is probably a lot that sounds familiar in the care instructions for tape-ins.
Your client can't wash their hair for 48 hours after install. Then, they can be washed every two to three days. It will also help to give your clients with tape-ins these tips and tricks for care:
Use sulfate-free shampoos & conditioners.

Avoid using conditioner close to the tape bond.

Hold the tape bond securely to the head while brushing.

Brush at the tips and work slowly up the hair.

Sleep with hair in a loose ponytail.
You can also direct them to our blog on how to shower with tape-ins and how to brush them for more details.
Swimming
When it comes to swimming, things are a bit looser with tape-ins. Your clients won't have to worry as much about the water tangling the extensions. However, the chemicals and salt that may be in the water could cause the tape to lose its hold. So, a swimming cap is recommended.
If your clients would rather not wear a swim cap, just be sure that they know to pat their hair dry as soon as they're done. That way the chemicals don't stay on the wefts.
Removal
The removal process of tape-ins is a lot less involved, but it's still recommended to be done by stylists.
To remove tape-in extensions, a solvent, like Extension Release, needs to be used to loosen the bond on the tape. The solvent is put on the weft and allowed to sit for a moment. After that, the tape comes right off.
After the extensions have been removed and washed, they can be reinstalled immediately. No need to wait.
When it comes down to it, there are good and bad things about both kinds of extensions. Though we do love tape-ins, you may have clients whose lives and preferences make micro-beads a better choice. 
Knowing what would work best for your client is a major part of establishing the Beautify Bond with them.
Giving them the exact thing that they need is a great way to keep them coming back and singing your praises.
So, be sure to talk with your client about what they are looking for and what their lifestyle is like. Go over the pros and cons with them of each kind of extension so that they can make the best decision for them.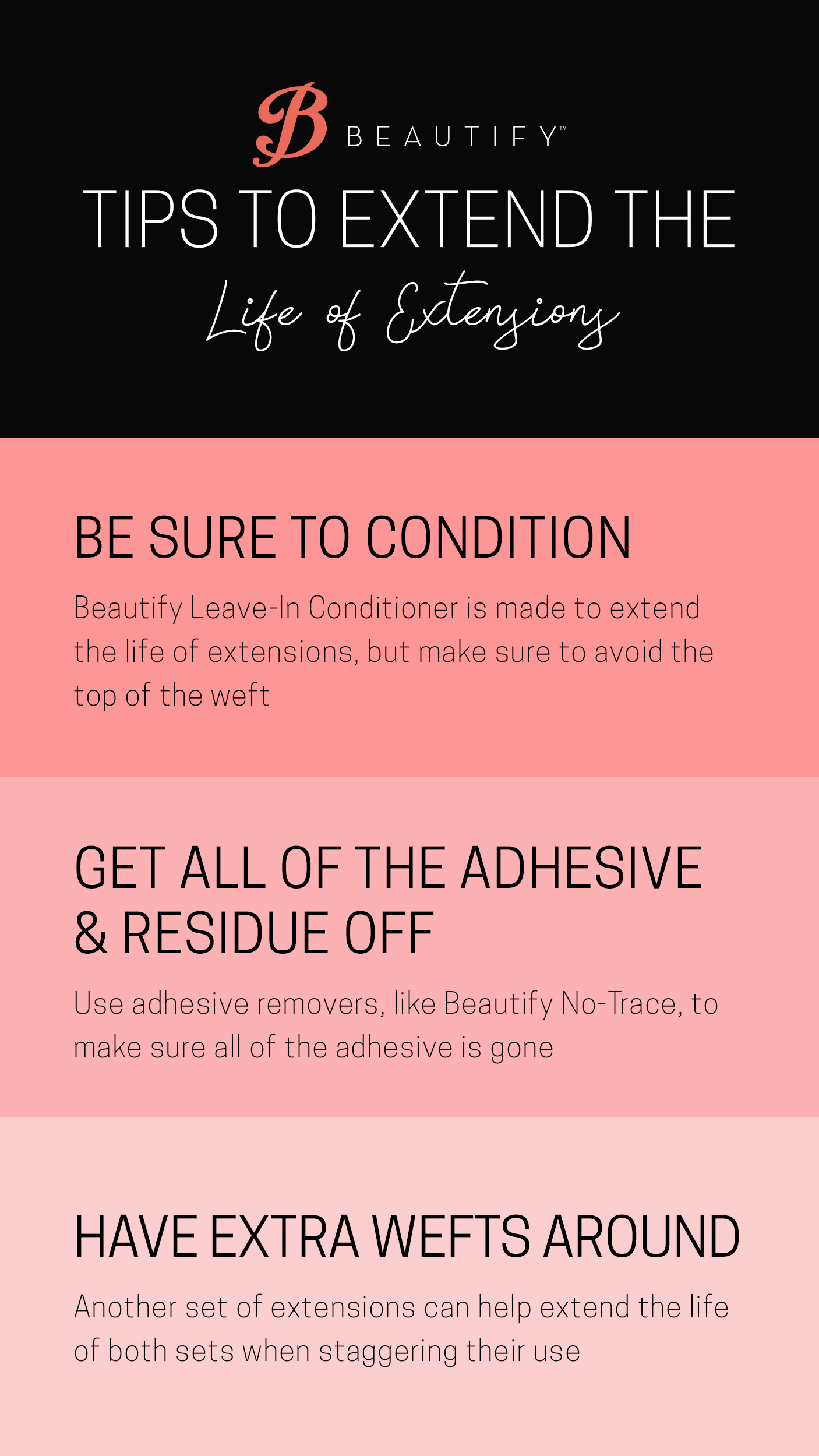 As always, if you have any questions, please reach out to us!