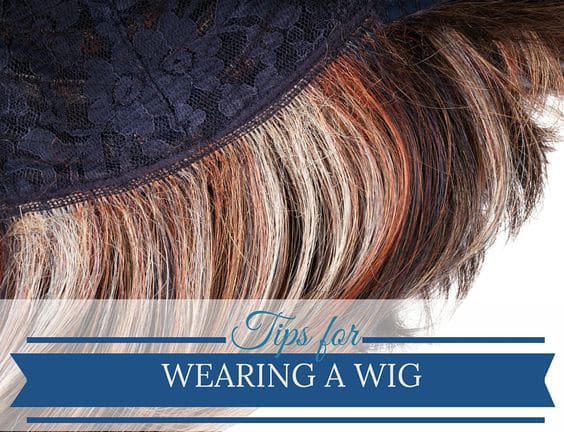 Learning how to wear a wig and making it look stylish and natural can be intimidating at first. If you use the right products and follow great tips like the ones below, you will look amazing in your wig every time!
Wigs are great to wear for any situation and anyone can wear them. That's right, whether you want to protect your natural hair or cover an area that is lacking hair, a wig is a great solution.
There are many types of wigs out there. How do you know which type is for you? Here are some guidelines to follow when deciding what type of wig is the most appropriate for you:
First, what is the difference between a synthetic and human hair wig?
Synthetic Hair 
Fiber hair
No styling necessary (comes already styled)
Human Hair
Real Hair
Can be styled and is more versatile
How To Wear a Wig: Do's and Don'ts
Installing: If you are going to use products like our Ultra-Hold Adhesive or Lace Front Support Tape for your installment, use them separately. We've heard of people explaining how using glues/adhesives and tape at the same time can help extend wear. Don't buy into this myth! Doing so can actually cause long term damage to your scalp and natural hair.
Products: Whether you have synthetic or human hair be sure to use products that are specifically meant for your wig. If you have a synthetic wig, purchase shampoo and conditioning products that are meant for synthetic wigs and vice versa. When you have a synthetic wig, using a product that is meant for regular human hair wigs will cause build up. This shortens the lifespan and dulls the hair fibers.
Brushing: One of the most important things to do when learning how to wear a wig is to make sure you absolutely DO NOT brush your wig when it is wet! It can cause your wig to stretch and can cause permanent damage. You also cannot use a regular hairbrush or comb. Your regular brushes are meant for human hair naturally connected to the scalp. Your wig is delicate and especially when brushing a synthetic wig, you can stress out the fibers. Purchase brushes that are meant for your type of wig.
Heat: With human hair wigs, you can use styling tools and do not have to worry about damage. However, we do recommend that you use a heat protectant. If you have a synthetic wig, DO NOT expose it to heat! This will cause permanent damage to the hair fibers and in many cases will melt the hairs together.
If you have a synthetic wig do not use:
Curling Irons
Flat Irons
Hot Rollers
Stay away from:
Sleeping: When sleeping with your wig be sure to have a silk pillow case on your pillow. It will help prevent friction and protect your wig from getting tangled. Wrapping your hair in a silk scarf will help with the friction as well. In the morning, gently brush your tangles so your wig does not get frizzy or matted. If you do not want to sleep in your wig, purchase a wig mount and place it there before you go to bed.
We hope these tips helped you learn how to wear a wig. If you have some tips of your own that you would like to share, feel free to comment below!
Looking for more tips on how to wear a wig? Read this great article on some of the do's and don'ts when wearing a wig.
Other posts you may like:
Good and Bad Wigs Worn By TV Celebrities
Flammables VS Non-Flammables: The Shipping Charges Can Burn You