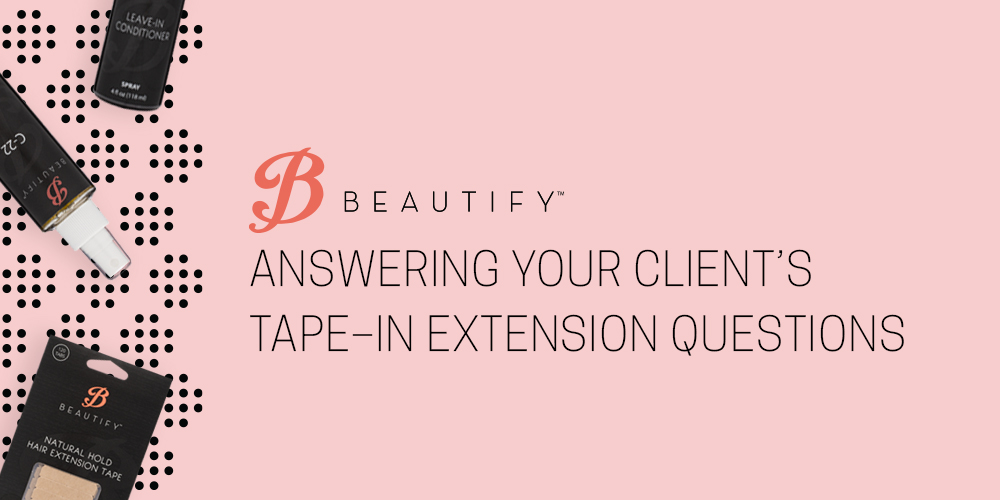 A Valuable Touchpoint: When Your Client Comes to You with Tape-In Extension Questions
"Extension questions" has a nice ring to it. As it should!
The first order of business is to congratulate you. As your tape-in clients come to you for answers, they're showing their trust in you. Your answers and the way you answer (reassuringly) builds even more trust. We've put together an infographic at the bottom of this post with ways to continue strengthening the bond between you and your clients.
Whether brand new clients or longtime clients trying brand new things, there are plenty of questions to ask. To help support you, we've put together this resource of quick links to several questions we've tackled on our blog. You can look at these as some of our question-answering greatest hits!
Not yet a wholesale customer of ours? Apply today, and enjoy saving big on the industry's most trustworthy tapes!
Your Client's Questions About the Possibilities of Tape-In Extensions 
Any tape-in options for fine or brittle hair?
Like the blog title describes, single-sided tapes can make tape-in extensions lighter for a much more comfortable fit. This is especially the case for fine and brittle hair.
What About Swimming in Extensions?
We add the 'but' here because there are a lot of variables to consider when going swimming in extensions. This blog post delves into all the details. Want the digest version: a swim cap is your client's new best friend!
Are updo styles out of the question with tape-ins?
In this tutorial, we've got your clients' desire for updo styles covered. 
Can Tape-Ins Help with Post-Pregnancy Hair Thinning?
Client Questions About Tape-In Extensions Do's & Don'ts
What about showering in extensions? 
Showering involves a lot: wet hair, product chemicals, heat, towels, and drying. In this blog post, we clearly run through the best ways to navigate all of these tricky scenarios. 
And brushing, drying, conditioning, ironing, sleeping, etc-ing in extensions?
Here we cover all of these questions and many more!
Anything that's best avoided? 
Listening to you as their stylist is the best way to avoid common mistakes made when wearing extensions. This list may serve as a good backup resource for your clients after they leave the studio.
A friend of mine has lice in her extensions?
Lice can be embarrassing to talk about, but we're here to help with some friendly resources.
Client Questions About the Extension Tape Itself
What Is Hair Extension Tape Made Of?
While we do mention the word magic in this post, it's grounded in credible science. (We still think there's a bit of magic involved though . . .)
Is There Such Thing as Organic Tape-Ins?
Unfortunately, we've come across hair extension businesses that use the word organic in their marketing efforts. We at Beautify think you and your clients deserve to know the reality behind the spin. Keep in mind, there is yet to be such a thing as an organic tape. 
Client Question About the Tape-In Process
Are Tape-Ins DIY-able?
The only reason we stopped at eight is because we try to strike a healthy work-life balance at Beautify. In truth, we could go on and on and on as to why stylists are absolutely necessary to tape-in extensions.
So, are tape-in extensions safe then?
All of our hair extension tapes are made using skin and hair-safe acrylic adhesives. Several of our tapes are also hypoallergenic, like our most popular option, No Shine. We even have a medical grade gentle tape called Pro-Flex II.
Why use a second of heat when installing tape-in extensions?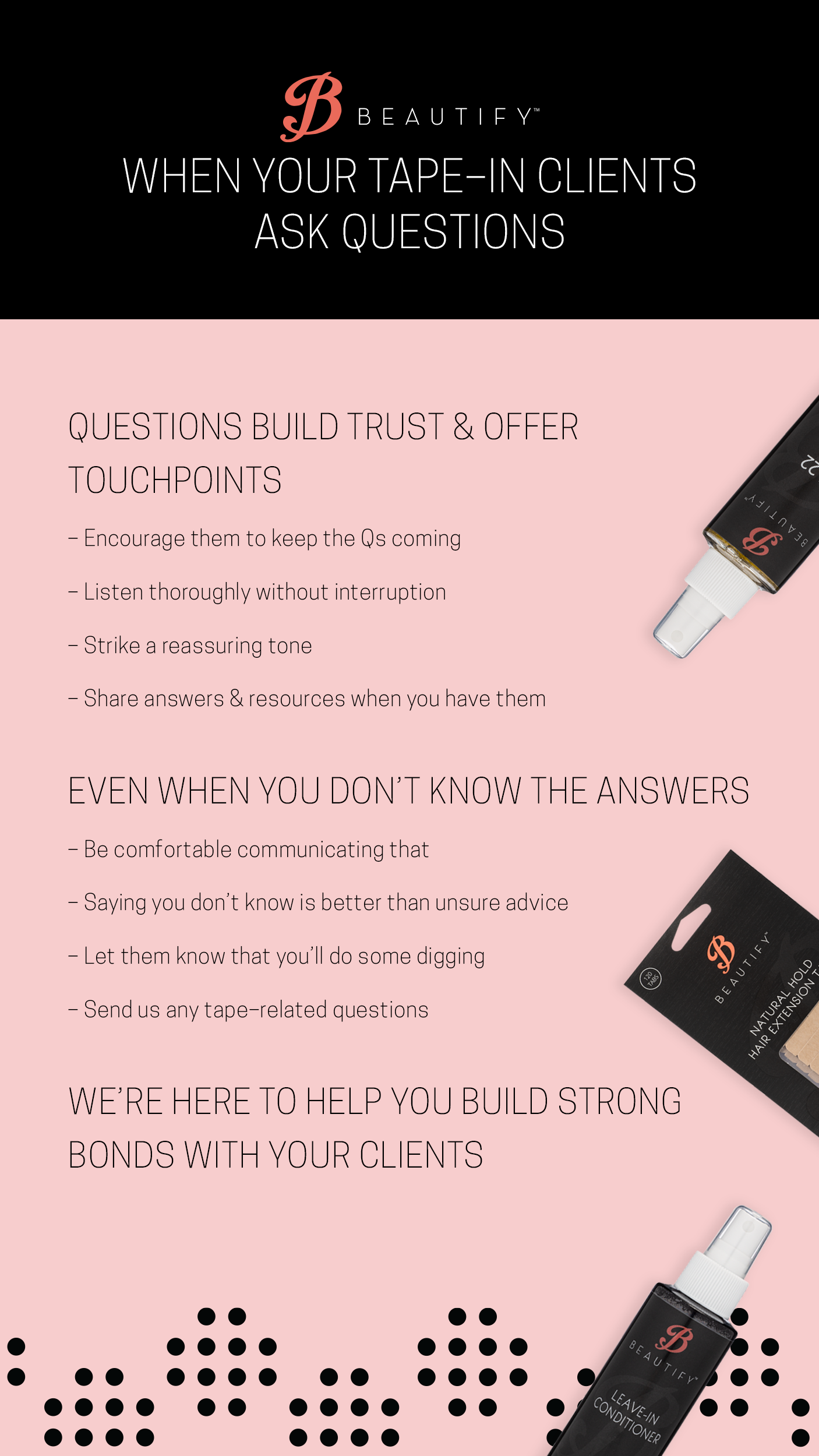 Now, for the most important question of all: where can stylists and salon owners get Beautify tape at the best price? That would be our store! Add Beautify tapes and removers to your cart today!