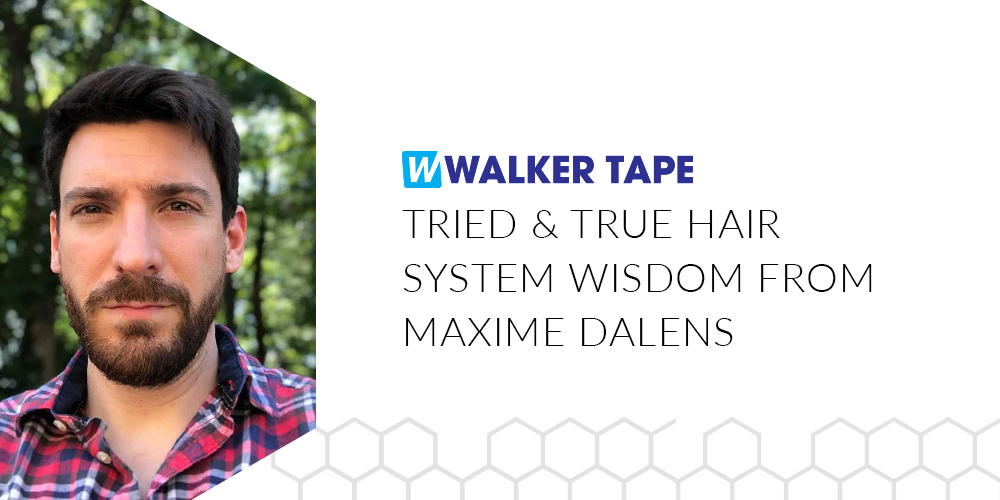 Maxime Dalens's Experience with Hair Systems 
Maxime Dalens brings a career of insight to the topic of choosing and maintaining hair systems. He's the Chief Operating Officer of the US branch of the Cosmecare International Group, the largest beauty corporation in France. He has years of expertise with hair products across the board. A vital part of his network includes Hairskeen. 
Hairskeen provides state-of-the-art hair systems by combining high-performance materials with the latest technology to achieve an imperceptibly natural look with style. The rest of this blog includes his suggestions to common questions when it comes to finding and maintaining the right hair systems with your clients.
What experiences led you to the hair loss industry?
It's a family business: my dad was in the hair industry for over 30 years. At the end of his career, he was the Director of Sales of Schwarzkopf France. After getting my BA in International Marketing at the Wolverhampton University (UK), I started as a sales representative for Revlon Professional in Paris. 
After 5 years of doing sales, I founded a distribution company of Italian made hair products. I did that for 3 years and then met with Eric Famechon at the end of 2012. He offered me a position as Director of Sales for the Cosmecare International Group. That is when I learned about the hair loss industry: all the scalp treatments (Hairfax), surgery (Capidern), keratin fibers (Nanogen), hair replacement systems (Hairskeen), and wigs (Raphael Perrier).
Common Questions Clients May Have When Choosing A Hair System
Okay, I'm starting to experience hair loss. As I consider my options, what should be my first step?
Interesting question. If you just start experiencing hair loss, then the first option and most important one is to keep what you have as long as you can. How? With scalp treatments, scalp therapy, and supplements. That will allow you to keep what you have as long as possible and, in some cases, increase your hair capital.
As a specific example, what if I've noticed my hair part is widening and see that my hair is thinning?
About the look, keratin fibers are a great option and will provide volume and cover the thinning area. Surgery can be a great option too in some cases, especially for a receding front hairline. But it's limited and expensive. 
Hair replacement like Hairskeen is kind of the last option but also the one that will give you a full head of hair. With Hairskeen, we can talk about style, texture, color, length, density, etc . . .
What's your advice on choosing hair systems based on different lifestyles:
Let's say we work out regularly?
It will depend on how sweaty you get when you work out and what kind of adhesive or tape you're using. But I would go with our Hairskeen hybrid systems as they will allow the scalp to breathe more than a full poly (PU) base.
How about for avid swimmers? 
The Hairskeen system doesn't really matter in that situation as the head stays cool while you're swimming. The adhesive or tape you'll use is what you should be cautious about. I'd avoid water-based adhesives and would start with the acrylic or silicone-based ones.
Now, what if we're healthy sweaters?
Same as the one working out. I'll go with one of our Hairskeen Hybrid systems to let the scalp breathe as much as possible, and I would try a perimeter bond with tape first and see how that goes.
Would you suggest different systems for humid or dry climates? 
Not really. The client's skin, scalp, and body chemicals are what will affect the durability of the system and the bond. It's a game of trial and error until you find the perfect combo of Hairskeen system and bonding techniques and products.
How would your suggestions change based on if our skin was oily or dry?
Pretty similar answer to the previous question. The bonding technique and products you'll use are the most important in that situation. The base, Sonic lace™ or Skeen for us, will mostly determine the look, feeling, and durability of the system.
Should the consistency or pattern of our bio hair factor into our choice? 
Yes. We have different curl patterns available. We also have various hair types available to serve a diverse client base. We are able to match most hair types or custom order them if necessary. We have over 80 colors available on our Hairskeen color ring with grey percentages.
How about if we're working with a tighter budget?
We have very good options for a tight budget: more durable Hairskeen systems that will last up to 6 months and still look very natural! We made a double layered Sonic lace™ system that allows the customer to use tape and do maintenance himself that will drastically reduce the expenses.
Would you recommend going with one system at time, or should we consider cycling between multiple systems?
It's always safer to have a backup system, in case of an accident. But it's more money to spend upfront. Usually, we recommend replacing the first system before it is completely done or out of shape and use that one as the backup system.
What other factors should I consider when choosing a hair system? 
When choosing the system, the final look and result will differ from a Skeen™ base or a Sonic lace™ base.  Maintenance is also an important part. Lace systems are more difficult to clean with adhesives, and some Skeen systems are too thin to use tape. Finally, the lifestyle and financial capacity of the customer will determine which Hairskeen system is the go-to.
What are the main differences I should consider between mesh and poly bases?
It's a matter of preference, especially focusing on the end result and how comfortable I am working with one base or another. In my experience, different hair replacement studios may prefer one base over another and will sell that option to all customers. It's known as the "We sell what we like" approach.
If I wanted a mesh-poly combination, how would I know which one would be best for me?
We called them hybrids. They're a great option to let the scalp breathe and have a strong bond in the back of the head to secure the system. The hybrid systems offer more possibilities. In the end, the hair replacement technician will know which system is the best for clients. 
That's why you should always go for a consultation before applying your first system.
If I wanted a mesh system, how do I choose between monofilament and lace options?
It's a balance between comfort and durability. Our Sonic Lace base is very flexible and comfortable compared to a French lace. But the French lace is a little more durable.
Match your studio's go-to hair systems with Walker Tape's vast selection of tapes and adhesives!
Questions Clients May Have About Hair System Maintenance
Okay, so I've got my first hair system, how long can I expect it to last? 
Depending on the system that your hair replacement studio picked for you, it can last between one to six months.
What are your tried-and-true maintenance tips that increase the lifespan of a hair system?
Obviously, being gentle with it. Do not touch your new hair all the time just to make sure they are still there! Using proper shampoo and conditioner will help strengthen the hair and keep them from breaking. A silk pillowcase is also a great addition.
What's the relationship between the cost of a hair system and maintenance?
We give our systems an average lifetime, let's say 2-3 months for example. Some customers will have to replace the system in less than 2 months, and some others will get over 4 months with the exact same system. It's a question of use and abuse and obviously maintenance. The more careful you are with your system, the longer it will last.
How often should I change my hair system? Daily, weekly, monthly?
Three to four weeks is the average time between a removal and reinstallation. At this time, you'll know if it's necessary to replace the system. Some systems need to be replaced every month because they are very thin and don't have enough density. Some others may last up to 6 months because they are more durable with more density.
Would I want to take my hair system off to sleep? Or should it never come off until my next appointment?
It's more a personal decision. The majority of men getting hair consider them as their own and won't take them off at night, but you absolutely can! We have Hairskeen systems especially made for that kind of use. Just a small pre-cut tape in the front and one in the back can secure your system enough for the day.
What is your biggest piece of advice for clients picking out a hair system?
Trust your technician. It will be a life-changing experience, but it will take you and your technician some time and adjustment to get to that perfect result you're looking for! Be patient and committed. It will be worth it.
What exciting things are you making happen with Hairskeen?
We are changing people's perception and mindset about hair replacement, removing the stigma and shame that have come along with it for so long. 
We're focusing on the style, the trends and the end result. But we're still very honest about the process, showing the reality of it, with the shaving and bonding part. It's a new approach to use social media and influencers, along with fashionable pictures. We are changing the industry.
Would you be willing to share what we can look forward to next? Even if it's just a teaser?
We will continue to do what we do best: we're adding new Hairskeen systems, new Hairskeen products, and release our new collection. We're also planning on offering advanced cutting classes for hair replacement.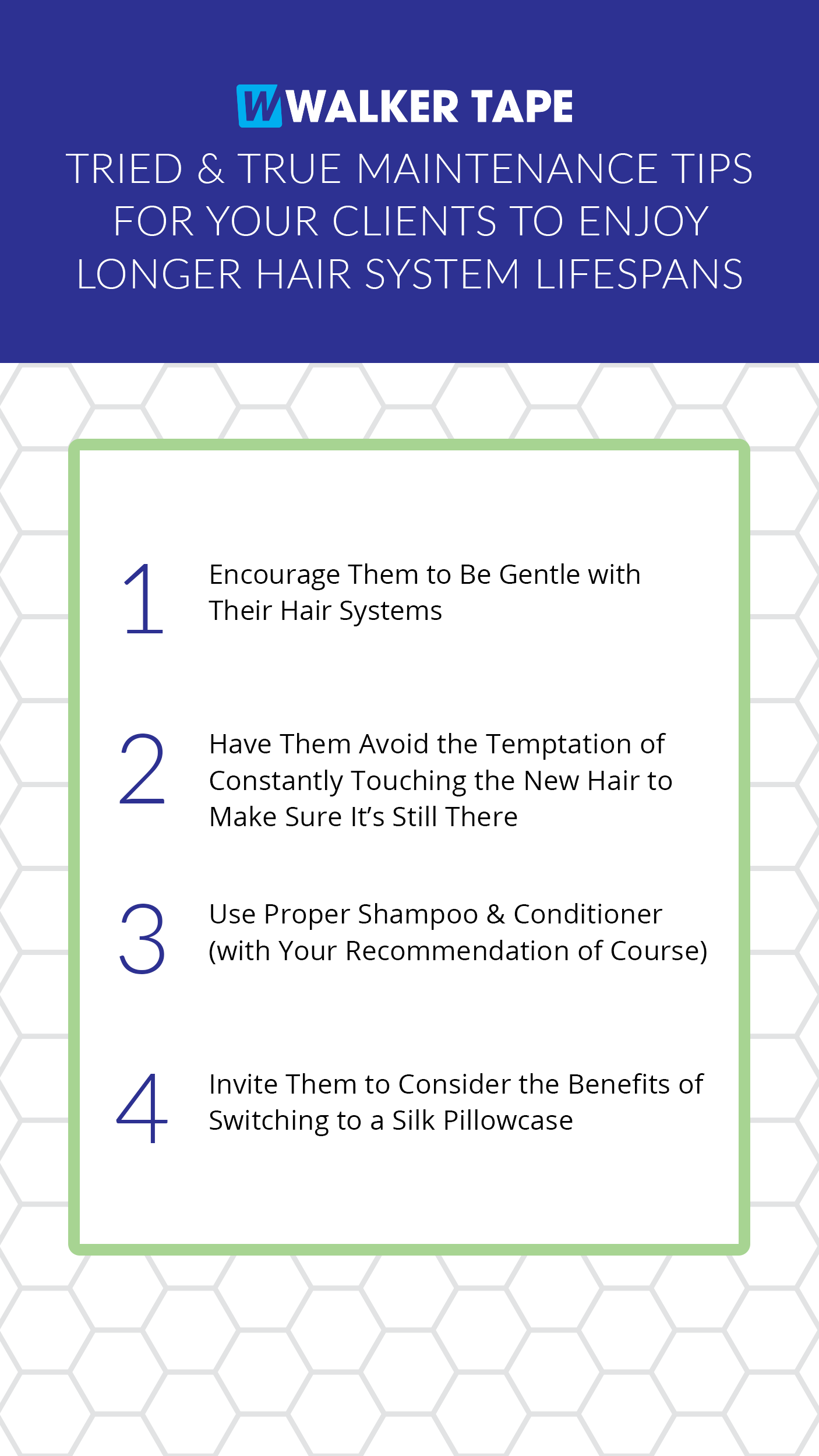 Are your clients ready to choose their hair system? Apply to be a Walker Tape wholesale customer today, and enjoy the most savings on the industry's best tape and adhesive products!