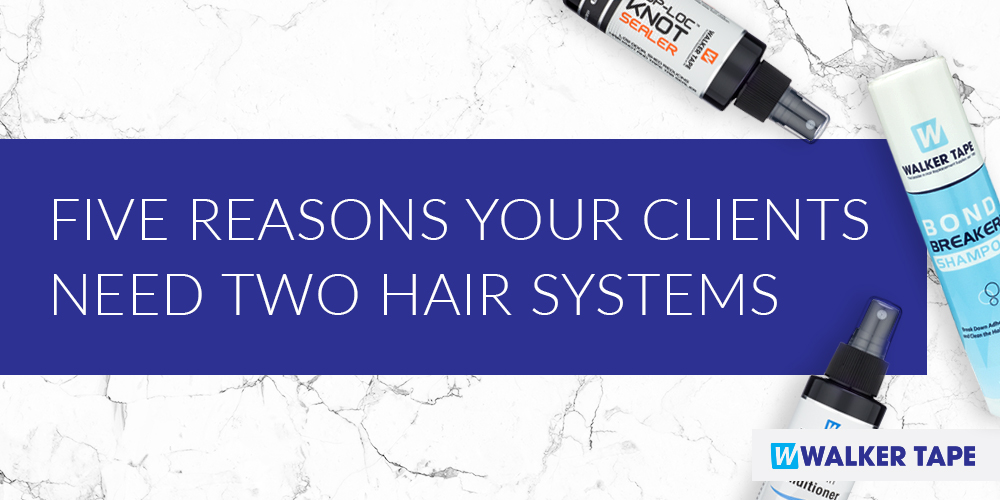 Two Hair Systems: A Vital Step in the Walker Way of Using Our Products on Your Clients
We've created the Walker Way of using our products to help you build strong bonds to your clients. The entire goal to see that you and your clients enjoy the best possible experience with our products. The Walker Way includes suggestions for working with new clientele as well as clients returning to your great service. 
The Walker Way hinges on your clients having at least two hair systems. The following post is to give you an overview as to why we consider two it to be so important. We break it down into five reasons your clients need two hair systems, but honestly, there's one overall reason. 
It's the same reasoning that fuels the Walker Way itself: using two hair systems supports your goals of growing a loyal client base. 
The following points are applicable regardless of your adhesive method. Using two systems makes your and your client's experience with our products better than ever. This is true when you're using our tapes, hard bonds, or liquid adhesives. 
Want to see how our products can help you build strong bonds with your clients? Become a wholesale customer today!
Here are five reasons your clients need two hair systems, and how it will make life better for you and your client.
A Tale of Two Hair Systems: Starring Loyal Clients & Successful Stylists
Act 1: Offering Your Clients More Trust-Building Services
In any business, touchpoint opportunities with your customers are vital. In the salon business, where you may only see your customers every couple of months, touchpoints become even more valuable.
Having two hair systems automatically makes it possible for you to offer extra services to your clients. These include services such as safe hair system storage and emergency backups. 
An important trust-building opportunity, you can show them where and how you intend to store their extra hair system between appointments. Your clients can see here how dedicated you are to their success and how much thought you put into them individually. 
Also, an emergency may arise where their hair system fails or falls apart. Having another system on hand gives you the chance to get them in at the last minute. Otherwise, they'd have to wait until another system arrives in the mail. Or they'd have to go with a basic over-the-counter system that isn't customized to their comfort needs.
Act 2: Extending the Life of Your Client's Systems
A pattern of alternating between hair systems extends their lifespan. Instead of constantly being worked with and exposed to product, one system can be stored safely and soundly. This gives it time away from the wear and tear of being handled. 
Plus, with two systems, you can allow them to air dry, avoiding blow dryer wear altogether. 
Act 3: Offering Your Clients an Unrivaled Salon Experience
Two hair systems make it easier than ever to get your clients in and out of the chair quickly and comfortably. You can have the hair system ready for install before they arrive. This means they don't have to wait for you to clean a hair system to be reinstalled.
Also, you can simply set the removed system aside and get right to preparing them for reinstall. The cleaning can take place after you've already sent your client out the door. 
Your clients are bound to rave about how easy and comfortable your services are. Especially when they get to leave with the satisfied feeling of a truly fresh hair system in place. 
Act 4: Streamlining Your Process
This ability of having appointments come and go smoothly also benefits you as their stylist. Your job simultaneously becomes easier and more enjoyable because you're constantly working with grateful clients and building those bonds. 
A two-system setup increases your efficiencies as a salon owner while having clients spread the word about your amazing service. That's a fantastic combo of benefits without compromising the quality of your service!
Act 5: Ensuring the Best, Most Consistent Results
By storing the extra system in your salon, you have complete control over how safely it is kept. You know for sure that it has not been exposed to heat or oils or clutter piles or family pets. 
This fact alone builds client appreciation for you storing their system. You're ensuring it's kept safe from accidents were they to keep it at their home. 
But by keeping it at your salon, you're also able to control the environment the hair system is in. This control gives your service the best chance to achieve excellent and reliable hold times. 
Finally, looking at all of these benefits together, we can see the main reason to encourage your clients to use at least a two-hair-system process. Successfully building an even more loyal base of clientele becomes your salon's reality.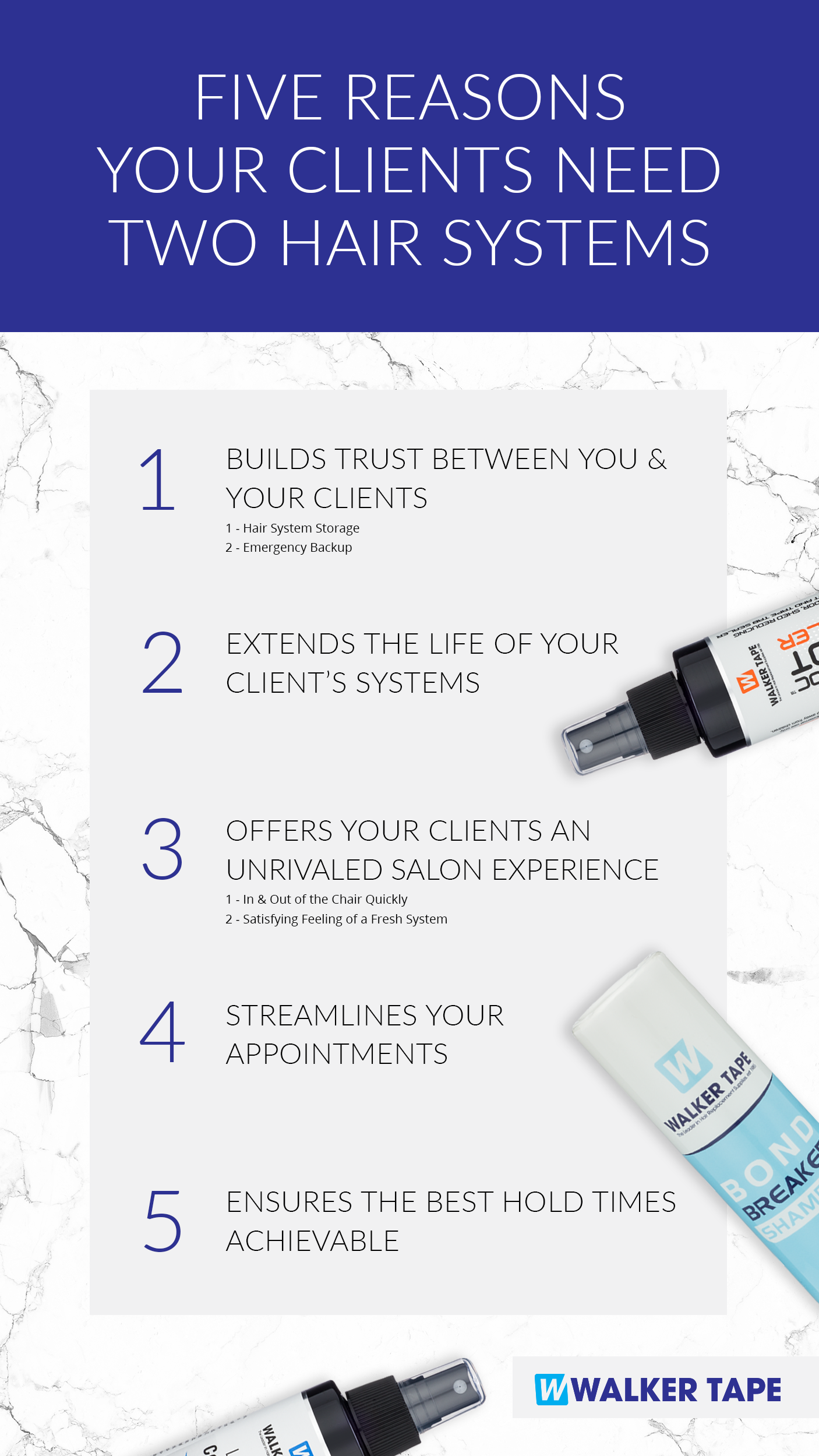 Keep strengthening your bond with your clients, and conveniently shop for your go-to Walker Tape products on our online store!