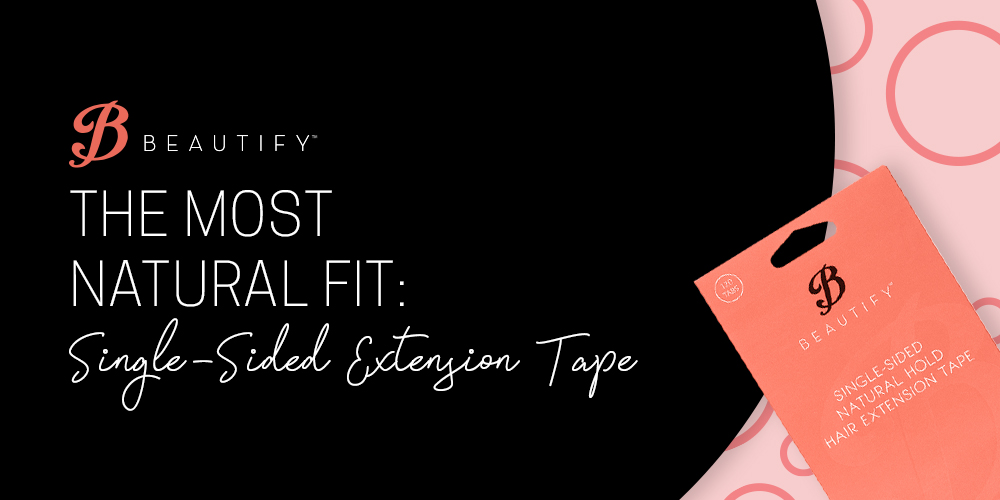 The Songs We Should Sing for Single-Sided Extension Tape!
While double-sided tapes for tape-in extensions take the cake in terms of popularity, there are some serious benefits worth exploring that only single-sided tape-in extension tapes can offer.
Below, we share a few of the songs worth singing out about when it comes to single-sided hair extension tape.
But first, here's a quick reference to using single-sided extensions.
Single-Sided Hair Extension Tape Directions
First, install an extension into your client's hair.

Then, remove the single-sided tape's liner

Apply the single-sided tape so it sandwiches your client's hair between the extension and the tape.  
The Song About Single-Sided Extension Tapes Being a Fine Choice for Fine Hair
A fine choice for fine hair can be tricky to find in hair extensions. The standard method of sandwiching your client's bio hair with two extensions may not be the ideal for people with finer hair. 
The wefts may show through on your clients with fine hair. This could call attention to the extensions if your clients have feathery enough hair. For those of your clients who prefer to add style and volume more subtly, you're going to want to keep wefts down to a minimum.
Luckily, single-sided extension tape calls for just one extension and an imperceptible piece of tape to do the job. Again, most of the time, standard tape-in methods tend to be sneaky enough. But no extension method can match the subtlety of using single-sided tape. This fact makes single-sided tape-in options perfect for subtle, fine hair.
The Song About Single-Sided Extension Tapes for Brittle Hair
If you have clients with dry, brittle hair, then the weight of extensions can create a challenge. For these clients particularly, single-sided hair extensions become the ideal. 
The weight of two extensions on brittle hair can cause stress to hair prone to breaking. But single-sided extension tapes allow you to hold extensions to their hair with only half the weight of the conventional double-sided tape-in extensions.
The Song for Single-Sided Extension Tapes and Front Extensions 
The front hairline is the most visible hairline when working with extensions. Since single-sided extension tapes hold even more invisibly, they may be the preferred solution for styles using extensions on that front hairline. 
With half the wefts there, it also helps give front extensions a more natural wear for the client and a more camouflaged look. 
Or a Simple Tune About Comfort
Some scalps are simply more sensitive than others. Even with tape-ins, which tend to feel very comfortable on the head, some people want the lightest option. This gives them peace of mind with knowing that the least amount of weight achievable is in their hair.
Maybe you've had clients express comfort being a reason that they didn't want to try extensions. Well, maybe they're just waiting for you to introduce them to the singular magic of single-sided extensions!
For the most comfort, we recommend our Single-Sided Natural Hold for all your single-sided tape needs. It's everything your fine-hair, brittle-hair, front-extension, or comfort-seeking client wants from a tape-in. It's comfortably light, invisibly dull, and like the name conveys, it seems natural when worn in their bio hair.
Our Single-Sided Natural Hold is also so easy for your stylists to use as well. Most other single-sided options on the market tend to curl up when you peel it from the liner, which can be so frustrating! This curl-up can slow your stylist's process down. It also takes a hit on your ROI because tape curling up on itself can easily become unusable and end up wasted.
With these concerns in mind, we've created Single-Sided Natural Hold to peel off the liner with curling up on itself.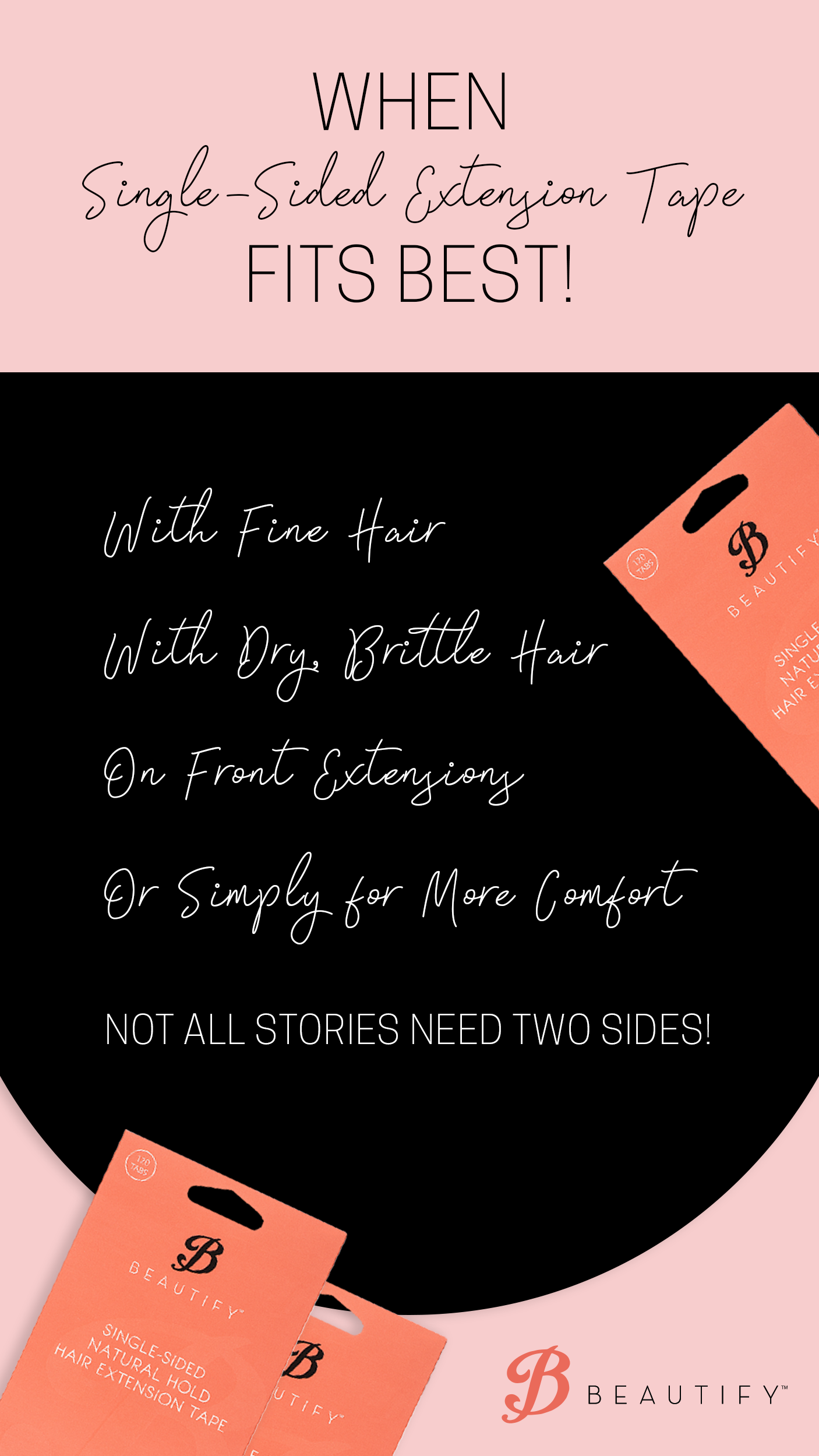 Have clients who could benefit from single-sided tape-in extension tape? Well, conveniently add some to your Beautify orders on our online store!