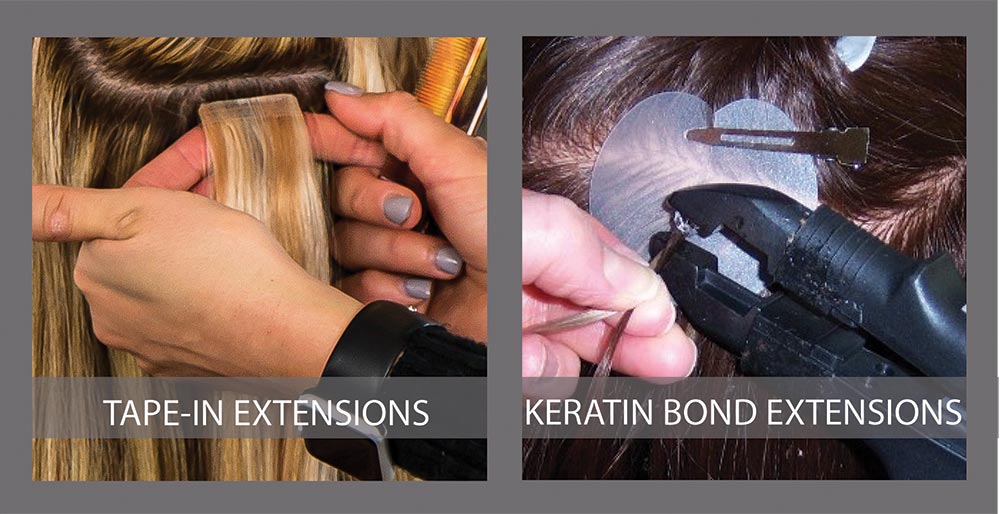 Researching different types of hair extensions can become overwhelming. There are so many different options and sometimes questions are left unanswered!
That's where we come in.
The right type of extension depends on three things. How much you want to spend, the care that is needed, and if it will work for your lifestyle.
Continuing our journey to finding the right extensions for you, we are going to compare two different types of hair extensions: keratin bond with tape-in extensions.
Keratin Bond
Installation Process (2+ hours)
Hair stylists install Keratin Bond extensions by sectioning your hair and starting from the bottom section moving up. They take a small clump of  your hair and place individual extensions that have the keratin glue bond already in place. A hairstylist will then use a special heat tool to secure the glue in the bond for a few seconds to ensure the best hold. Depending on your hair type 200 – 300 individual pieces may be installed into your hair. The extensions can stay in for approximately 3-6 months.
Cost
As we have mentioned in our previous blog post about micro-bead extensions the cost of different types of hair extensions always depends on the type of hair you purchase, location, and the experience of the stylist. We've done some research and found that costs can range from $400 – $1800+.
Care/Maintenance
After your Keratin Bond extensions have been installed do not wash your hair for 48 hours. After this time, to ensure the hold of your extensions, wash your hair only every 2-3 days. Keep shampoo and conditioner away from the bonds to protect them from damage. A loop brush is recommended to help minimize
damage and you should try to brush your hair at least twice a day. Do not place heated tools, such as flat irons, on the bonds. Heat is used to install the bonds, and heat can destroy the bonds.
Swimming
Avoid swimming in pools or the ocean with keratin bond extensions. The chlorine and salt can damage the bond.
Removal Process
To remove your keratin bond extensions, your hairstylist will use a keratin remover gel and tool. They will apply the keratin remover gel onto the bond alone, use the remover tool and squeeze the bond. Once the bond is loose, they will slide the extension off and continue the removal process throughout your hair. You can have your keratin bond extensions reinstalled the same day, but it is recommended to wait a month to give your hair a break.
Tape-Ins
Installation Process (30 min – 1 hour)
The installation process for tape-ins is fairly simple. Your hairstylist will section your hair and starting from the bottom, they will place tape extensions 1 cm from your hair roots. They will then move up row-by-row until the back of the scalp is covered. Medium heat is applied to the weft for one second to ensure that the adhesive attaches to the hair.
Cost
Cost can depend on the type of hair, location, and experience of the stylist. Looking into this we found that costs can range $300-$900+.
Care/Maintenance
With any type of hair extensions, it is best to wait 48 hours before washing your hair in order to ensure the best quality. This will also ensure that the adhesive is secured to your hair. Once the bonds are attached, be sure to wash your hair only every 2-3 days while your extensions are in!
Bonus Tips:
When showering with tape in extensions, do not place the shampoo or conditioner on your wefts. This could cause the extensions to become loose.
Remember to also brush your extensions at least twice a day. It is best to wrap your hair around a section of hair that you want to brush to prevent tugging.
Swimming – It is recommended to wear a swimming cap, but you do not have to. We suggest that you pat dry your hair right away after you are done swimming so the chemicals do not sit on the wefts, potentially causing them to become loose.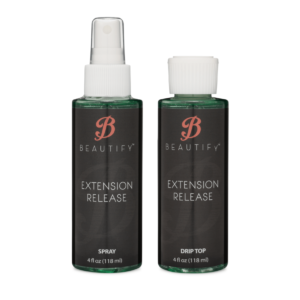 Removal Process
To remove your tape-ins a solvent is needed to loosen the bond. Your hairstylist will place the solvent on the weft, let it sit for a few seconds and then peel it right off! Once they are removed, your hairstylist can have them re-installed the same day. As with all hair extensions however, we recommend giving your natural hair a break for at least a few weeks.
Are you a professional that's new to Walker Tape products? Sign up as a wholesale customer to get access to the best products in the industry at the best prices.
If you have any questions about our products please feel free to message us at [email protected]!