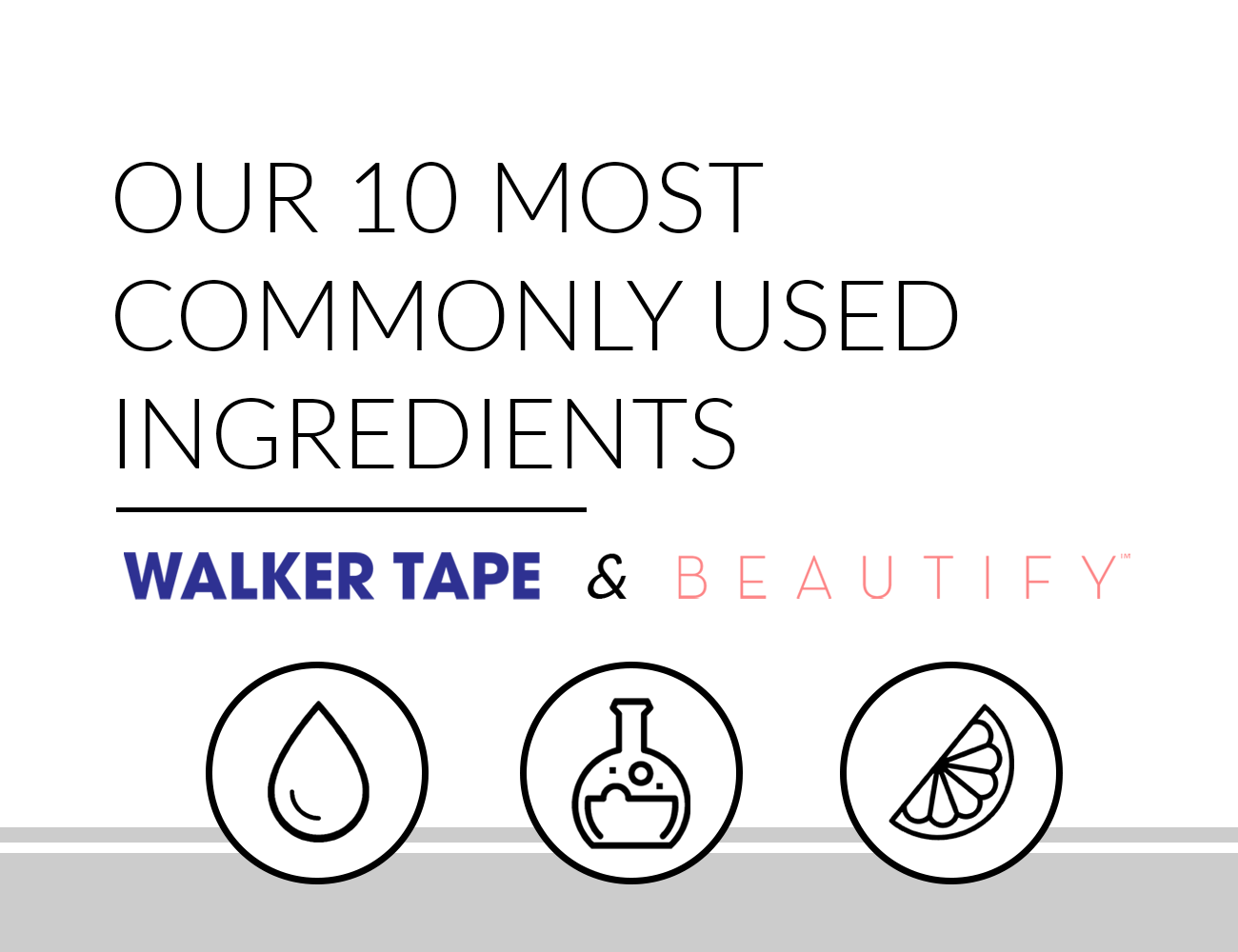 What Walker Tape and Beautify Are Made Of
Walker Tape and Beautify products are staples in hair replacement and hair extensions for both their performance and literal ingredients. Our tapes, adhesives, removers, and prep products offer your salon consistent quality and confidence trusted by experts around the world. As it turns out, this is all possible thanks to the following ingredients. 
Sometimes, it can take a while researching what exactly goes into products that goes on top of your clients. Let's make their product questions and concerns easier with this breakdown of our 10 most commonly used ingredients.
1) Acrylic
Which Walker Tape and Beautify products contain acrylic?
We use acrylic-based adhesives in all our Walker Tape and Beautify tapes except German Brown. That's our one tape that's rubber-based. So, if you have clients sensitive to latex, we have 27 of 28 tapes that work great. All our tapes beside German Brown are latex-free. 
In addition to our tapes, four of our liquid adhesives are also acrylic-based: Mity-Tite, Ultra Hold, and Walker Signature Adhesive.
Also, all three of our hard bond adhesives use acrylic as a main ingredient. On the bottles, you find them including what's called "cyanoacrylate," which is an acrylic resin. 
What is acrylic?
Short Answer: a substance cooked up in labs.
Acrylic is originally made from acrylic acid, usually available as a byproduct of fossil fuels. Although, there are acrylics that are now being made partly from plant matter. 
Why use acrylic?
Since it's man made in laboratories, it's completely customizable, and we mean completely. Acrylic-based tapes make up the bulk of all tapes because we can tune them to perform exactly how we want them to. 
Think about how many challenges our adhesives are up against on your clients' heads. They're exposed to who knows how many chemicals in the bottles on their bathroom shelves. Then there's the variety of climates out there: humid to dry, cold to hot, higher UV exposure to sea level sun rays. Your clients need adhesives that can stand up to all these elements. 
Plus, they need to be able to stick to skin, which is probably the trickiest material on earth to stick to. Let's remember, skin is always in the process of shedding its top layer. You know, the very layer tapes and adhesives depend on maintaining a bond. How our tapes stay on human skin for as long as they do basically defy science. One person alone can have skin that's sometimes dry, oily, flaky, and the list goes on. There's also the ever-growing list of skin conditions we must also consider. 
Keeping all these factors in mind, we develop and fine-tune our tapes and adhesives to handle such a feat. The customizable nature of acrylic helps us all pull it all off. Or better yet, stick it on. We've also made our acrylic-based tapes and adhesives work great with the materials that hair systems are made of too. 
2) Isopropyl Alcohol
Which products contain isopropyl alcohol?
Short answer: a lot.
Full answer: The following is a complete list.
What is isopropyl alcohol?
Short answer: what we also call isopropanol. It's an alcohol usually derived from combining water with propene.
Why use isopropyl alcohol?
The isopropanol we use is medical grade safe for cleaning. In the salon, there's no shortage of things to keep clean: tools, chairs, work stations, hair systems, skin, etc. But, as you can see from the above list, this use is really only part of two products: 99% Alcohol and our Hand Sanitizer. 
So why use this alcohol in so many of our other products? Because it evaporates quickly and cleanly, it happens to work great as a solvent. It's one of the main ways we keep our liquid adhesive in a liquid state. Once you apply them, the isopropyl alcohol evaporates off and the adhesive qualities are ready to work. 
3) Water
Which products contain water as a main ingredient?
Why use water?
Water is probably the healthiest, safest ingredient for us. So, when we have the chance to lean on water, we do every time. This move toward finding ways to use water more often helps us move in a more sustainable direction as well.
With the right ingredients, water works as a good solvent. This allows us to offer water-based adhesives, our Top-Loc Knot Sealer,  and a water-based remover. For products with several ingredients or more concentrated amounts of one ingredient, water also makes a great dilutor. That's why we depend on it for our shampoos and conditioners. 
4) Ethyl acetate
Which products contain ethyl acetate?
Short answer: all our silicone- and acrylic-based liquid adhesives.
What is ethyl acetate?
Short answer: a solvent made by combining ethanol with acetic acid.
Why use ethyl acetate?
Like mentioned above for isopropanol, this works well as a solvent. We've found that it works especially well with silicone and acrylic liquid adhesives. 
5) Hydrocarbons
Which products contain hydrocarbons?
What are hydrocarbons?
Short answer: stuff made only of hydrogen and carbon atoms. 
Like acrylic, they usually come as a byproduct from the energy industry. 
Why use hydrocarbons?
These compounds achieve an astounding balance between cutting right through adhesive bonds, while at the same time staying safe enough to use on your client's scalp. The exception here, of course, is Rapid Release, which has not been tested as skin safe. 
6) Silicone
Which products contain silicone?
What is silicone?
Short answer: Similar to acrylic, it's manmade in a lab.
However, silicone originally comes from sand. It can be tricky to know what is or is not silicone on ingredient lists because they rarely just say silicone. This is because it's usually added to other compounds to achieve a specific use for that silicone. 
For example, in both our Walker Tape and Beautify Leave-In Conditioner, a silicone used goes by cyclopentasiloxane. Whenever you see Si in a chemical formula, you know it's using silicone.
Why use silicone?
Silicone offers phenomenal resistance to environmental factors that affect adhesives. Some examples include chemical, UV, and weather resistance. Silicone is also incredibly gentle on skin and holds securely to all kinds of hair systems.
Silicone is also pretty easy to customize into the product your client needs. Our clips have used silicone to make them grippier so less shifting around occurs. An opposite example would be the silicone in our Leave-In Conditioner products. They, like most conditioners, use silicone to help invigorate the hair with a silky smooth feel.
7) Citrus Oils
Which products contain citrus oils?
What are citrus oils?
Short answer: oils from the peels of citrus fruits.
Most citrus oils are commonly available as a byproduct of making orange juice. 
Why use citrus oils?
Probably the number one reason has to be that they are a renewable resource. But in addition to their sustainable nature, they're also good at removing adhesives while giving products a pleasant smell.
8-10) Medical Grade Dimethylcarbinol, Propylene Glycol, & Mineral Oil
Which products contain medical grade dimethylcarbinol, propylene glycol, & mineral oil?
It's a three-way tie between our different alcohol-based removers.
What are they?
Short answers: Dimethylcarbinal and propylene glycol are alcohols. Mineral oil is a clear, odorless liquid made from highly purified petroleum.
It could sound weird for your clients to hear that we use something derived from petroleum on their skin. But it's safe enough that it's a common ingredient in tons of cosmetics, food, cold creams, and even baby lotion.
Why use them?
They provide our alcohol-based removers with some of their best features. They make our alcohol solvents capable of removing adhesives and also evaporating without cleanup.
For all your Walker Tape and Beautify product questions, always feel free to contact us. Not a customer yet? Fill out our painless application and start saving on your favorite products today!