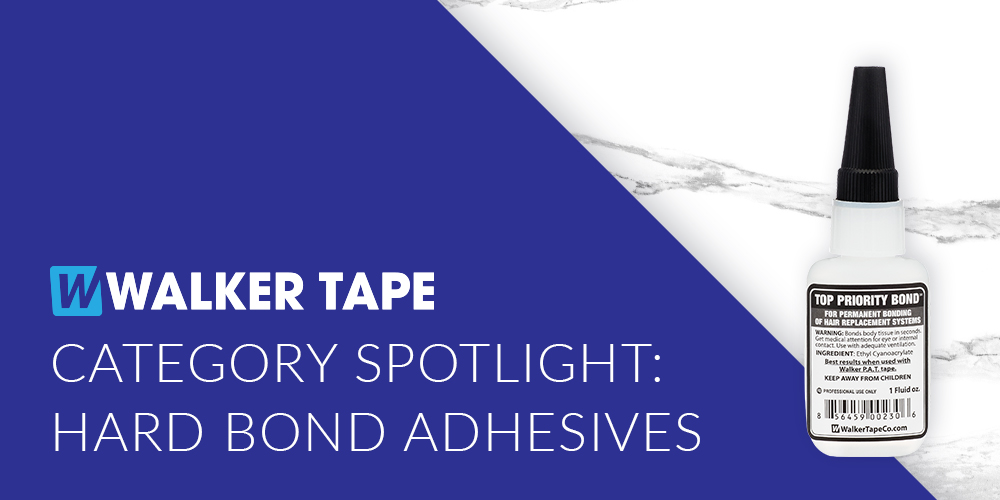 When choosing an adhesive for hair system installs, there are a lot of options. But there's one category that is often overlooked. That would be hard bond adhesives.
Let's take a look at some of the advantages of hard bond adhesives and track bonding.
How Do Hard Bond Adhesives Work?
To better understand hard bonds, we need to start with their history.
Hard bonds were initially invented in WWII to help seal wounds. But they're still being used in all kinds of industries. This is because they're basically fast-drying superglues.
Because they are so fast-drying and hang on so well, hard bonds are great for hair system installs. But it's important to remember that these adhesives should always be used with P.A.T. Tape. They aren't meant to be used directly on skin.
Part of the reason why they shouldn't be used on skin is because as they dry, hard bonds get harder and harder. Most adhesives start to lose their hold after a while. Not hard bonds, their holds just get tighter.
However, this gives them a strong, reliable hold.
How Do You Use Hard Bond Adhesives?
Now that you know what hard bonds are, let's talk about how to use them.
Hard bonds are used with a method we already briefly mentioned: track bonding. This is when you shave a track of your client's natural hair to use for install and removal.
But what does that look like?
Install
Using trimmers set at 1/8" shave a track of your client's hair along where the border of the system will be. The stubble gives you a place to put the hard bond without actually putting it on your client's skin.
Place P.A.T Tape on the system
Put the tape along the hair system's perimeter matching the track in your client's hair. 
Apply a small amount of adhesive to the hair
Place little dots of hard bond to the stubble of hair left in the track. It doesn't take much hard bond to get a good hold.
Press the hair system firmly in place.
Tip:

Work in small sections
As we mentioned earlier, hard bond dries fast. So, it's a good idea to work with the adhesive in small sections.
Removal
Removal is much simpler than install, with only one step:
The track that you initially shaved will grow out over time, making it so you can simply shave the adhesive, tape, and system right of your client's head.
Once you have that shaved off, you take the P.A.T. Tape off the system, clean it, and get it ready for reinstall.
Tip:

Use

Lace Release

to get the P.A.T. off the system with little fuss!
Which Clients Benefit Most from Track Bonding?
Track bonding and hard bonds are a great way to get a system on your client. But not all clients need this method. Some are just fine with tape or regular liquid adhesive. So, who should you use track bonding on?
We recommend track bonding and hard bonds for those really hard-to-stick-to clients. The ones who sweat quite a bit and/or live in a humid climate may benefit from track bonding.
It can also be used for those clients that just want the security of hard bond's hold.
In your first session with a client, you can go over the pros and cons of track bonding and see if they'd prefer it. If not, we have all kinds of alternatives to meet the needs of your client.
Our Selection of Hard Bond Products
We offer three different hard bonds, all of which are designed to be some of the most comfortable hard bonds on the market.
But when working with hard bonds, you never just use the adhesive. There are other products that go along with them. Let's take a look at our hard bond collection.
This is our most popular hard bond. It's an industry standard and a great choice for hard-to-stick-to clients.
With a lid optimized for a long storage life, Sure-Stick makes sure you get the performance you're looking for with each drop.
P.A.T Tape is designed to be used with hard bonds. It helps protect the system from the strong hold of the adhesives.
Working with hard bonds can be a little intimidating, that's why we have Hard Bond Remover. It's made to be used in emergency situations when you accidentally put hard bond in the wrong spot and need it gone.
Shelf Life & Storage
Each of these products have pretty standard storage times.
The P.A.T. Tape lasts for about a year when stored properly (in a cool, dry place, away from direct sunlight). The hard bonds last for up to six months when stored correctly (in a cool, dry place, away from direct sunlight). You can also store unopened hard bonds in the freezer for extended shelf life.