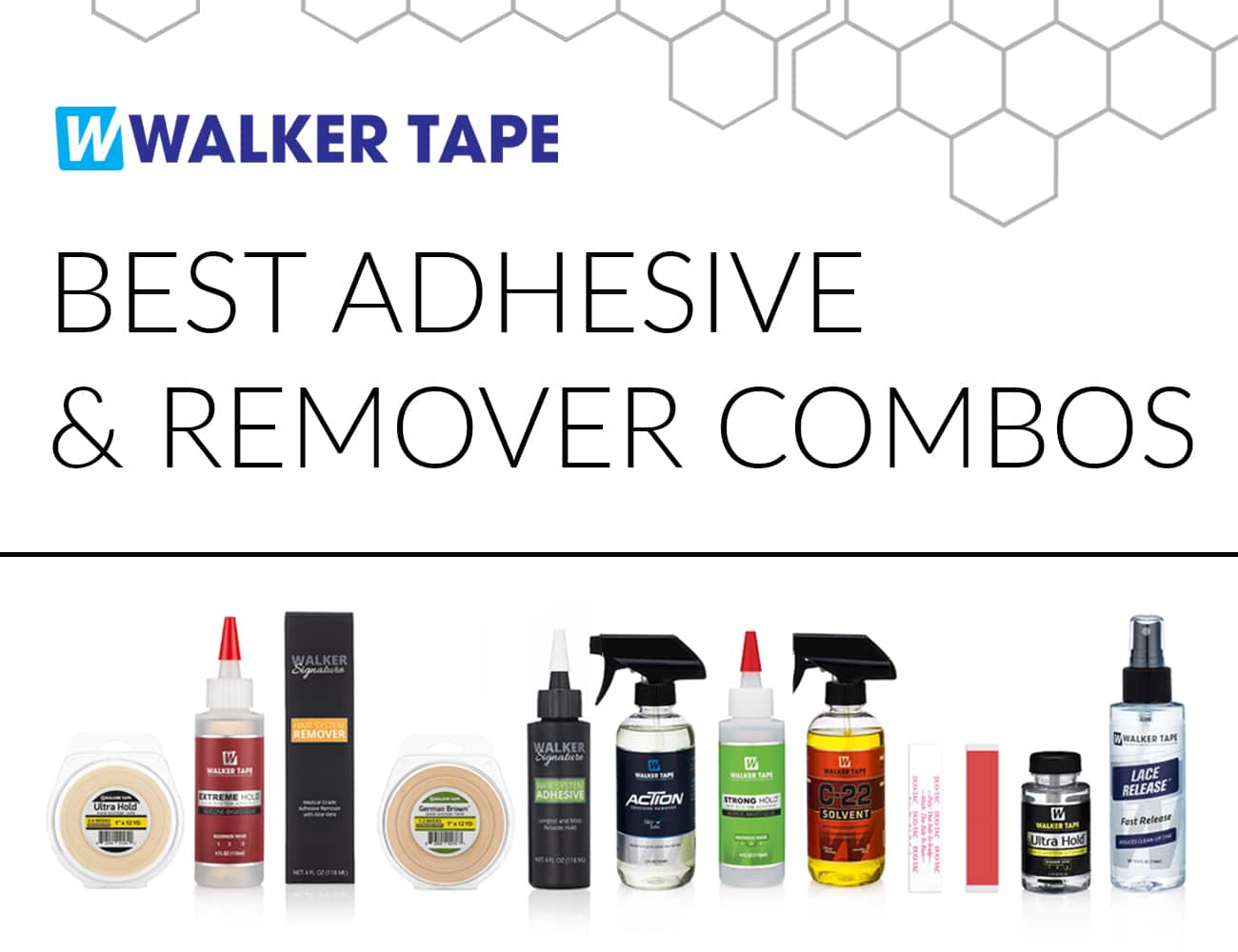 Our Best Adhesive & Remover Combos: Removing Walker Tape Products Just Got Even Easier!
It's well known to the seasoned stylist that each client requires a different hair replacement solution. This includes the type and measurements of the hair systems, plus all of the products necessary to keep the system on. 
What's less known, perhaps, is that this same principle is also true for when it comes time to remove and reinstall the hair system. If you approach removers with a one-solvent-fits-all idea, you could be missing out on remover-adhesive combos that work amazingly together. 
While most of our removers work great with all of our products, knowing which removers work best with which products makes a huge difference. Finding the right pairings makes the removal experience better for both you and your client. 
Some pairs are more obvious than others. For example, you want to match our water-based remover H2GO with Safe Grip and Great White, our water-based adhesives. 
However, some combos can be much less obvious. Below we offer a handful of example pairings to help you get the best from each of our products. We include a tape and a liquid adhesive suggestion for each remover. So, whichever method you prefer, we've got you covered. Here are our best adhesive & remover combos:
Walker Signature Remover
Walker Signature Remover is our fastest solvent for your clients with sensitive skin. It's also one of our faster removers period. It works great even on clients with no skin issues at all. Walker Signature Remover uses an organic, oil-based formula that's safe for all systems and has a medical grade gentleness. 
But most importantly for the topic at hand, it couples amazingly with both Ultra Hold Tape and Extreme Hold.
Removing Ultra Hold Tape with Walker Signature Remover
One of the strongest, tackiest tapes in the industry, Ultra Hold Tape lasts for four weeks or more. But eventually, the hair system must come off. For the most part, the longer a tape holds, the more likely it is to leave residue buildup that needs to be removed. 
This is exactly where Walker Signature Remover comes in. It gets to work quickly, removing a month or more of residue buildup out of your client's hair system.
Removing Extreme Hold with Walker Signature Remover
This pair works so well together we actually already have dedicated an entire blog post about it. 
Conveniently bundle this adhesive and tape with Walker Signature Remover through our online store.
Action
Our very fastest solvent, Action is an oil-based remover that's both skin safe and works on all hair systems. We suggest coupling it with German Brown or with Walker Signature Adhesive.
Removing German Brown with Action
German Brown has been an industry standard for years. It's used on poly systems because the tape itself has a cream coloring that could show under a mesh system. German Brown is also our only tape that uses a rubber-based adhesive, and Action works like a dream to remove it.
Try pairing Action with German Brown today! 
C-22 Solvent
Now, for our most popular remover oil-based remover: C-22 Solvent. It's known for being fast acting and skin safe. While this all-around favorite works great with the other tapes and adhesives mentioned already, it pairs exceptionally well with Strong Hold.
Removing Strong Hold with C-22 Solvent
Strong Hold is perfect for clients preferring an acrylic liquid adhesive with a secure hold for one to two weeks. It's also perfect for C-22 Solvent when it comes time for removal.
Since Strong Hold is for the clients who come in more frequently, it's ideal to have C-22 Solvent at the ready for a convenient removal each time they come in.
Remove Strong Hold with C-22 Solvent today!
Lace Release
Now, what about your customers with mesh systems such as lace fronts? Cue Lace Release: it releases the adhesive from the delicate mesh and helps lower the risk of damaging fragile systems. It also leaves most of the adhesive buildup on the client's scalp, meaning less to clean out of the delicate lace. 
We've mentioned before how well Lace Release pairs with P.A.T. Tape for clients who prefer track bonding. However, less known may be how well it pairs with Duo-Tac and Ultra Hold adhesive.
Removing Duo-Tac with Lace Release
We designed Duo-Tac for universal Maximum Wear use, optimized both for mesh systems and poly systems. When used on mesh systems, it just so happens that it's also the best tape to pair with Lace Release. 
This "duo" creates one of the cleanest removals for a Maximum Wear tape. This is ideal considering both the popularity of lace front systems as well as how fragile mesh systems tend to be. 
For an even more natural-looking hairline, you can also get the same results by pairing Lace Release with Duo-Tac Thin.
Removing Ultra Hold with Lace Release
Ultra Hold is quite simply one of the most reliably long-lasting adhesives on the market. It's known for cleaning up quickly for an acrylic adhesive. When paired with Lace Release on mesh systems, you can make that quick cleanup even easier for yourself, your client, and their hair system. Lace Release frees the mesh from Ultra Hold, keeping most of the adhesive on your client's scalp. 
See for yourself how good Lace Release removes mesh systems from Ultra Hold and Duo-Tac, and order them together today. 
Have you found other great combos that work for you? Share your success stories with Walker Tape products at [email protected] or tag us on Instagram (@walkertapeco).