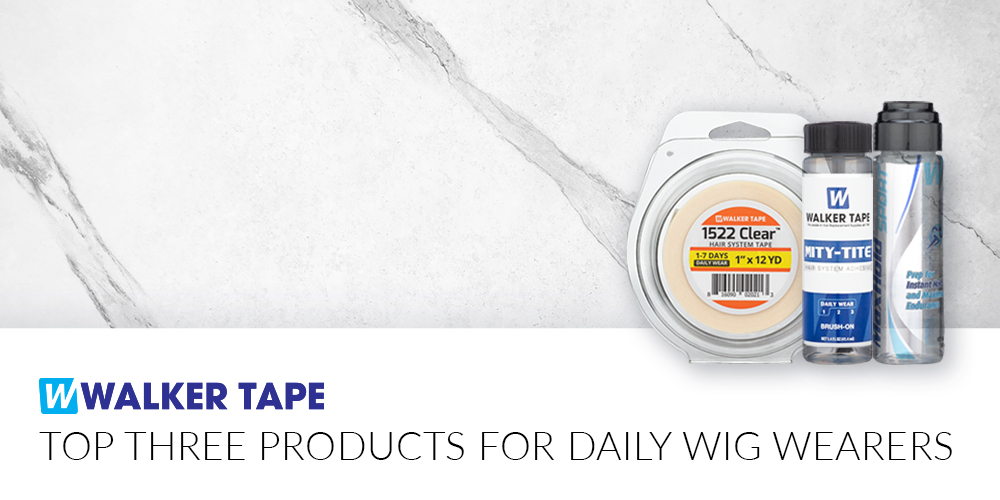 As a stylist, you likely have a diverse group of clients who all have different needs. For example, some may wear their systems for weeks at a time before they need a reinstall. Meanwhile, others may take their systems off at the end of the day and replace them every morning.
The problem that presents itself for that second group of clients is that most hair unit adhesives are designed for long-term wear. So, what options do your clients have if they want a daily adhesive?
Luckily, we've got you covered at Walker Tape. We have several different Daily Wear tapes, adhesives, and accessories. Here are our top 3 favorite Daily Wear products.
Our Top Daily Wear Products
1522 Clear
If you're looking for a Daily Wear tape for your client 1522 Clear is the way to go. It's our most popular Daily Wear tape and for good reason. It is gentle on skin and leaves little residue, making clean-up a breeze.
It is, however, pretty shiny. So, if your client has a mesh system, you may want to consider another tape, like This Side to Base.
Here are some of things to know about it:
It works best on poly systems
It has a strong, stiff carrier
It's similar to Top Stick
Mity-Tite
If you have a client who prefers liquid adhesive. Or your client may want to keep their system on for a few days with a Daily Wear tape but need help with touch-ups. For these clients, you'll want to use Mity-Tite.
This acrylic-based adhesive is skin safe and great for both daily wear and touch-ups. Plus, it:
Can be used with all systems
Max Hold Sport
Putting on systems and taking them off everyday can be kind of rough on both skin and the system. If your clients want to use Daily Wear products, it's a good idea to introduce them to Max Hold Sport.
Max Hold Sport is our favorite scalp protector. It is designed to create a barrier between your client's skin and the unit and adhesive. This helps protect the scalp and the system from the strain of constant wear.
Ways to Help Your Client
If your clients are going to be taking off and putting on their systems regularly (if not daily), they're going to need a bit of extra help. It's important that you work with them as part of the Walker Way. This will keep them coming back to you.
Some of the ways you can help your client include:
Showing them how to properly install and take off their units
For your Daily Wear clients, it's a good idea to do training with them on installs. Go over the best way to put the tape or adhesive on their system. Teach them how to use other protective products. Then show them how to put the system on their scalp.
After, show them the best uninstall method, including cleaning the adhesive off their skin.
Teaching them the best way to care for their systems
Even the best adhesives out there will eventually wear on a unit. So, showing your Daily Wear clients the ways that you care for systems, will help them keep their units looking great between appointments. This can include showing them how to remove adhesive from the system and how to properly wash the system.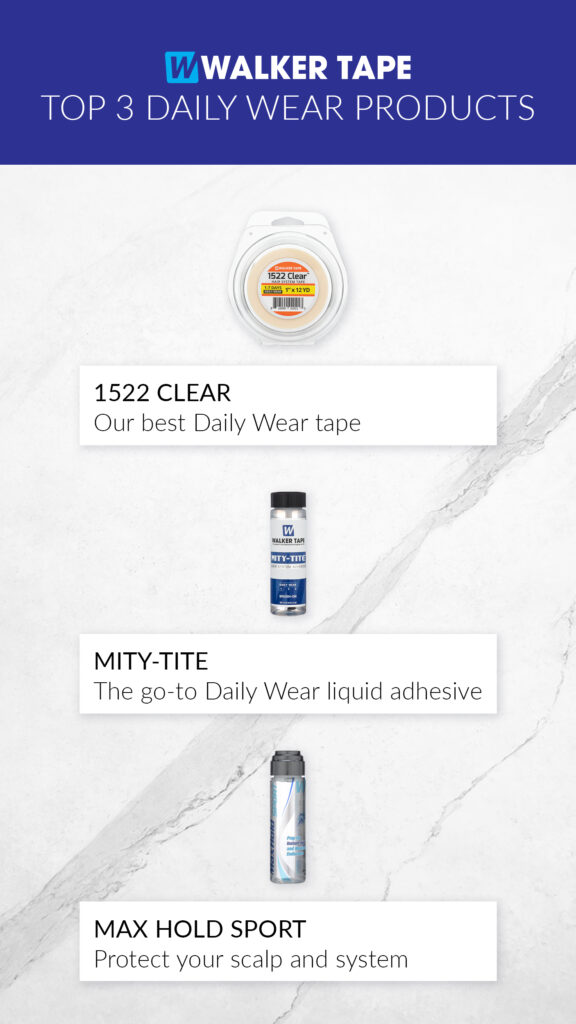 When you provide your clients with the best products and information, it makes it easier for them to keep a routine that works for them. It also instills trust in you and your knowledge as a stylist. Working with these products and tips can help create a great relationship between you and your clients!