Skin can be very delicate to work with. Especially when it's in places that aren't normally exposed to the elements, like the scalp. These areas can have reactions to different chemicals and compounds that are used in all kinds of products.
So, as a stylist, it's likely that you will have plenty of clients with sensitive skin. It's also possible that you'll have clients that have allergies that even they aren't aware of. There is a chance that while the rest of their skin is fine, their scalp is a bit more sensitive.
This uncertainty can make finding the right products to use on your clients tricky, even when it comes to tape. Some clients who have very similar skin types may have different reactions to the same adhesive. One client with sensitive skin may do just fine with a normal adhesive.
We, at Walker Tape, do carry tapes that are made for sensitive skin. So, you could only use those tapes on all clients. However, that isn't the most feasible option, as those tapes sometimes aren't as long lasting or may not work well on certain systems.
Since everyone is so different, what can you do to find the right kind of tape for each client? 
The best way to find your client's perfect tape is by doing a skin patch test. This is where you test a tape on your client before you commit to using it on them and their system. This test is easy to do and incredibly helpful.
To help you get your client the tape they need, here is a quick, step-by-step guide on how to do a skin patch test.
Place the Tape
A skin patch test starts with you putting a small piece of tape on your client. While this may seem obvious, there is a little bit more to it.
You first need to identify a good area. This should be a spot where the skin is sensitive and visible, even if they need a mirror to see it. We recommend behind the ear as a good place.
Once you've picked a place, be sure to prep it with 99% Alcohol. This will clear the skin of anything that could get in the way of the hold of the tape and results of the test.
After everything is ready to go, place a small piece of tape on the prepped area.
Cover the Tape
After the tape is in place, be sure to cover it with a bandage. This will help make sure that the tape isn't knocked off on accident. It will also keep the area safe from outside forces that could change how the skin reacts.
Then you can send your client home. They can go about their day as normal, just remind them to be careful of the test area. Remind them to not mess with it too much to make sure that the results are as accurate as possible.
Check the Tape
After 24 hours have passed, your client can remove the bandage and tape and see if their skin has reacted. If they would prefer, they could also come in and have you check it.
If there is any reaction, it likely is not the right tape for them. These reactions can include:
If there is no reaction, then you should be fine to go on ahead and use the tape.
This whole process can take a few tries to find the right tape. So, if your client agrees to it, you could try multiple different tapes at once. This will help narrow it down much faster.
It can also be helpful if your client has seen the dermatologist before their appointment with you, so they know if they have any allergies. But this isn't required.
We recommend doing a skin patch test on all of your first-time clients. Even if they don't believe they have any allergies or sensitive skin, it is the safest way to go.
If you do find that your client has sensitive skin and cannot handle regular tape, there are many gentle options. Here at Walker Tape, we have a wide range of tapes for sensitive skin. Some of these tapes include:
This is an Extended Wear tape that is made to be used with poly systems while being gentle with skin.
This tape is a Maximum Wear that can be worn with any system, especially lace fronts. Plus, it is hypoallergenic.
If your client would prefer a Daily Wear tape, then this is the perfect choice. It is only meant to hold for a few days and does so with gentle grip.
While each of these tapes are nice and gentle, it's still smart to test them on your client before using them. It's unlikely that your clients will have a reaction to these tapes, it's best to be cautious with sensitive skin.
Having this level of consideration for your client's comfort is a major part of the Walker Way. The Walker Way essentially is the idea that if you take care in how you treat your clients, they will keep coming back.
Part of this is to make sure that your clients are comfortable in their systems. Testing tapes and making sure that it is safe for them to use shows clients that you're focused on making them look and feel great. So, though a patch test takes time, it is helping ensure that your clients know they can trust you.
You can learn more about how to work with clients that have sensitive skin in our blog. If you're looking for some great skin-safe tapes, head on over to our shop page. There you will find all of the tapes you will need.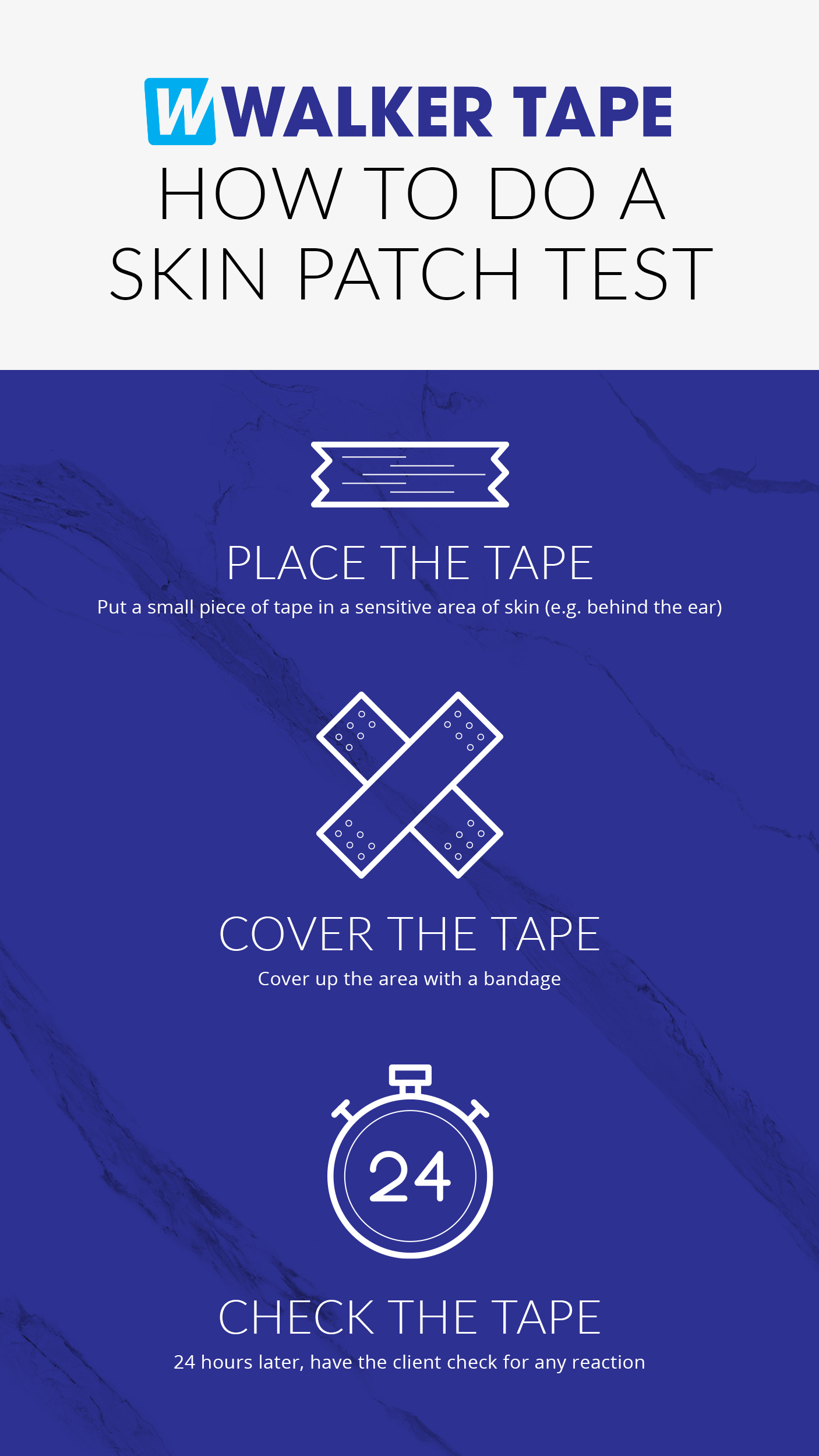 As always if you have any questions, you are more than welcome to reach out to us. We'll help you however we can!