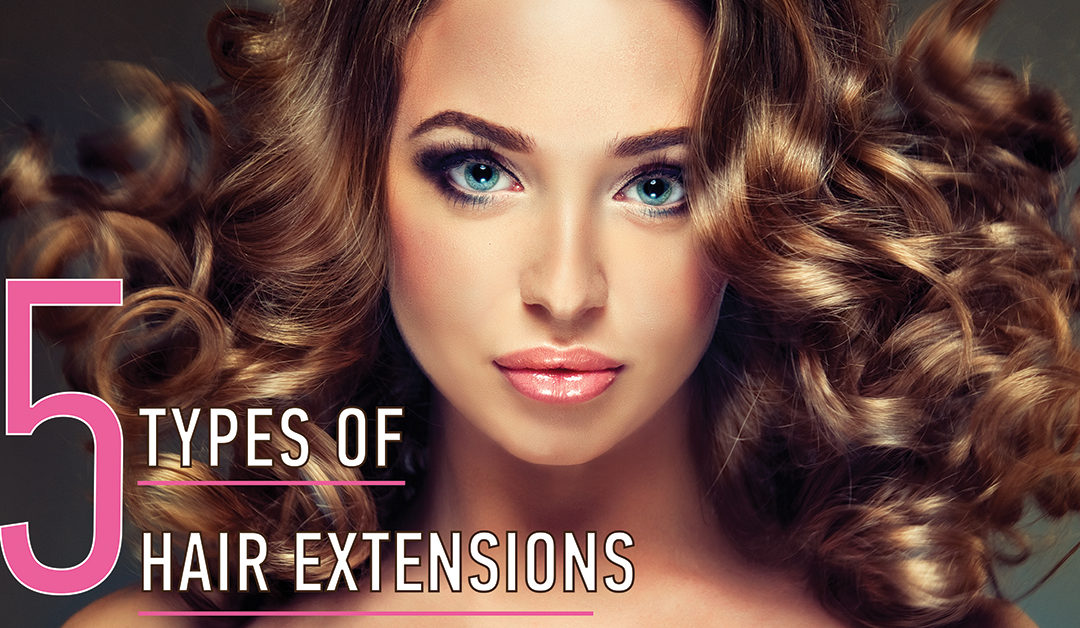 There are many kinds of Hair Extensions out there, each with their advantages and disadvantages.  So how do you choose the best kind of hair extension for you and your situation?  We have put together an updated guide to help you navigate this process.

5 Types of Hair Extensions
Tape-In Human Hair Extensions
Average Price Range: $300-$900 (pricing includes service fee and hair)
Application Time: 30 minutes to 1 hour
Maintenance Schedule: Every 5-6 weeks.
The most effective method and the most requested method around the world. Less expensive, the hair is reusable and there is little maintenance.
They normally take less than an hour to apply, so the service fee for installation is significantly cheaper.
Tape-in extensions are affordable and reusable, making them the best choice.
---
Sew-In/Weave Extensions
Average Price Range: $500-$1,200 (pricing includes service fee and hair)
Application Time: 2 to 5 hours (depending on type of extensions and how many additions you're putting in)
Maintenance Schedule: Suggested to "tighten" your braids every 4-6 weeks.
Weaving/sew in extensions are best for African-American hair, they have enough strength and texture to hold the cornrow braid.
This method combines extensions with the natural hair in a visible way, meaning the braided attachment is seen but blends into the hairstyle.
Tiny braids hold hair extensions against the scalp, like cornrows – except these braids are more hidden. The concern with this method is that it applies tension and uneven weight to the natural hair which can be very painful and damaging. This method can be very heavy and uncomfortable for some because of the amount of hair used. This can loosen the weave, tug on your natural hair and break it. Irritant reactions and folliculitis may result from this method.
---
Fusion/Pre-Bonded Micro/Glue/Keratin Bond Extensions
Average Price Range: $400-$1,800 (pricing includes service fee and hair)
Application Time: Minimum of 2 hours
Maintenance Schedule: Every 3-6 months (hair is NOT reusable!)
This method is installed strand by strand and can take hours, therefore they cost be very expensive.
Pre-Bonded, also known as fusion hair extensions, are fused on the actual hair by using a hot tool which can also be damaging to the hair.
You are unable to use any conditioners, oils, or hot tools to prevent extensions from coming out.
Using fusion hair extensions requires significant upkeep and regular salon appointments for maintenance.
---
Micro-Bead/Neo Human Hair Extensions
Average Price Range: $400-$1,000 (pricing includes service fee and hair)
Application Time: 3 to 5 hours
Maintenance Schedule: Lasts 6-8 months with frequent tightening
These extensions are attached in small sections (strand by strand) using a ring with a double loop interlocking system. No keratin, glues, or any adhesive.
The looping method helps the hair to not shift or slide. The ring used is made of zinc because of it's hypo-allergenic qualities and aluminum, which will not heat up when styling with hot tools.
This method can be refitted and, if properly cared for, can last 6-8 months. Maintenance usually consists of re-tightened the extensions as they grow out.
If any happen to slip out, the stylist can easily put them back in.
---
Clip-Ins Extensions
Average Price Range: $50-$450
Application Time: Less than 30 minutes
Maintenance Schedule: NONE
This method is damage free and can be applied within minutes – but is only a temporary solution! You only have gorgeous hair for a day.
You can style them before or after application. Clip-ins do not require any maintenance and last more than a year if taken care of properly.
The biggest advantage of clip-ins is how affordable they are. It is recommended that you bring your clip in extensions to the salon with you to have them cut/trimmed to blend in with your natural hair.
---
COST FACTORS
The cost for hair extensions varies based on the quality, type, and length of the hair extension.
The cost of installation depends on the method of application as well as the density of the client's natural hair. This is why some salons require a consultation.
Because there are many methods of extensions, a true cost can only be given at a consultation.
We hope this guide is helpful to you.  We wish you the very best in your search for the perfect hair extensions!