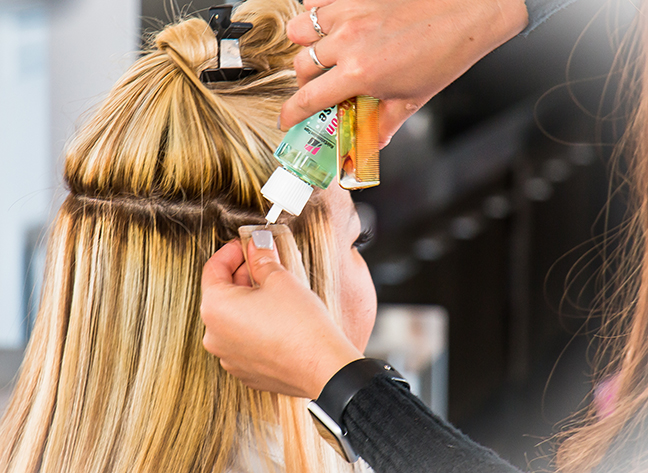 Extension Release remover is one of the most popular products used with tape-in hair extensions.  Stylists all over the world love using it.  Here are some of the reasons that this remover is so popular:
It is alcohol based, which breaks down the adhesive.
No oil, so you don't have to worry about cleaning up extra residue.
No need to shampoo before reinstall (clients hair or extensions).
Great to use if you are just fixing an extension that slipped out.
One thing we do want to mention about Extension Release is that it doesn't work as quickly as some of the other removers like C-22.  For many stylists the extra removal time is worth it so they don't have to work with the oily residue.
How to use:
Choose one hair extension to start with and using either the drip top or sprayer, saturate the adhesive area.
Move to the next extension and repeat.  You will do this to all of the installed extension.
Return to the first hair extension and begin working it until the extension releases from the hair.
Repeat until all of the extensions are removed.
After the hair extensions are removed, you can also use Extension Release to remove any adhesive residue left behind.
We would love to hear what remover you like to use with tape-in hair extensions and why.