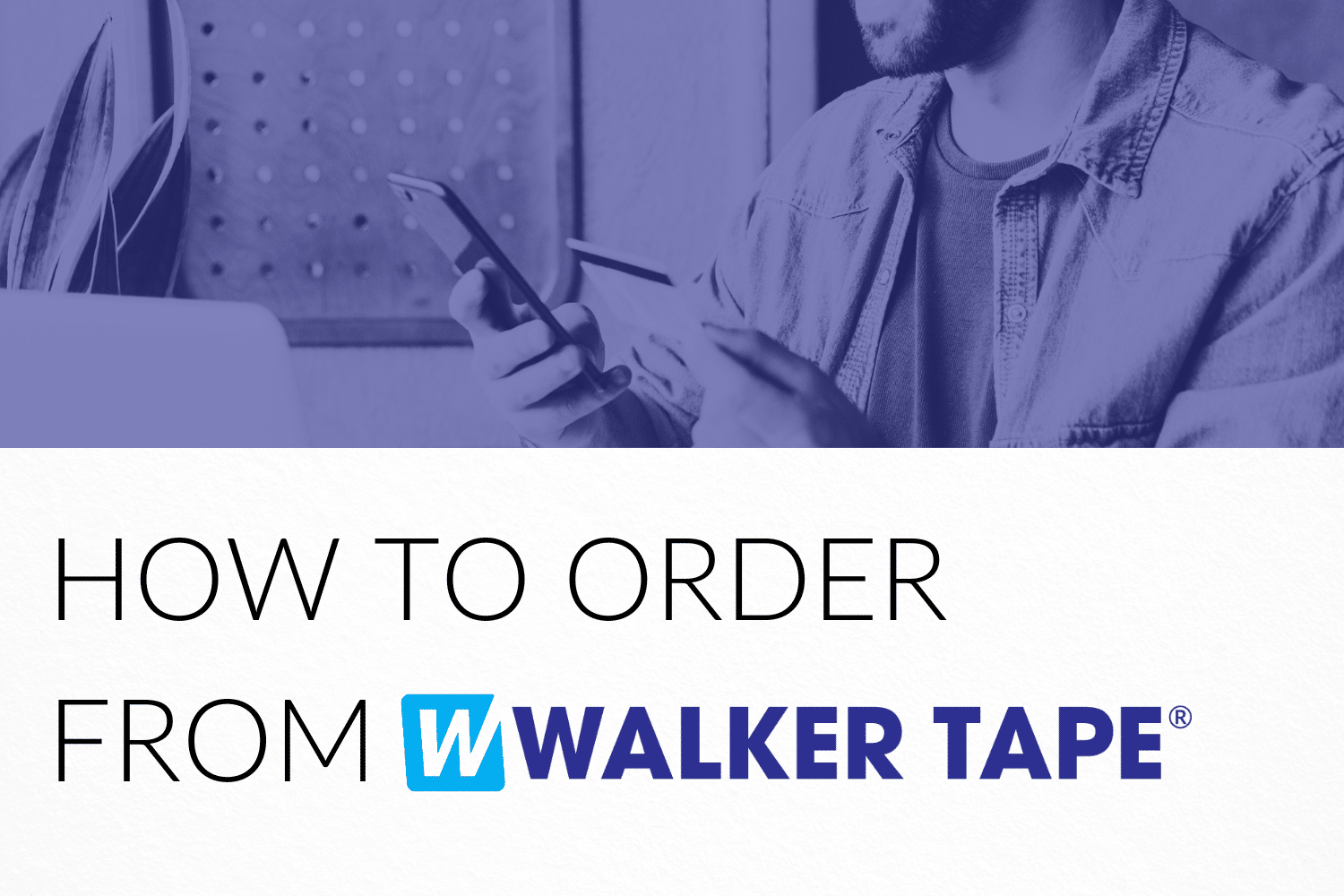 If you are a brand-new Walker Tape® customer, or new to working with wholesalers, placing your first order can be intricate and quite detailed. From paying to pricing to ordering, it's a new ballgame when working with a manufacturer. 
We've created this easy-to-use guide that will make the process of buying from Walker Tape® more convenient for you! Starting with: 
Accessing Pricing
We offer two simple ways to view the prices for our products. Those are: 
Logging in to our Online Store:

If you are a Walker Tape® customer, simply go to our website and login to your account to view prices on all our products! We've streamlined the site to make your experience simpler.

 
Scanning the QR Code in our Catalog

: In the Walker Tape® wholesale product catalog, there is a QR code on the "Price List" page (Page 2!). Scan the code, and the price list will be available upon login.

 
Ways to Order
Different customers have different ways of operating, and as such, we offer multiple ways to order products from us: 
Our Website:

We've streamlined our website to make your experience better! F

ind, order, and buy your products in just a few quick clicks! Or use our new "Quick Order" option to place your order even faster.

 
Over Email:

Email us at

[email protected]

with your order, and our Customer Service Team will assist you happily! 

 
Over the Phone:

Call us at 1.800.759.5150 and our dedicated Customer Service Representatives will help take your order! 

 
When placing an order by email or by phone, you can also request a sample of any product that you would like to try! 
Please note that Walker Tape® has a $40 USD (United States Dollars) minimum order quantity required to place an order with us. 
Ways to Pay
To meet the needs of our customers, both domestic and international, we offer a variety of payment methods, which includes: 
Credit/Debit Cards:

Walker Tape® accepts American Express, MasterCard, Visa, and Discover cards.

 
Wire Transfer:

For a more secure and safe payment option, we allow payment through banking. Contact us to get started!

 
International Only – PayPal:

Select the "PayPal" payment option at checkout or ask to pay with PayPal if you're ordering over the phone or over email.

 
Checks:

Please make checks payable to:

 

Walker Tape Co., Inc.

 

9312 S Prosperity Road

 

West Jordan, UT 84081

 
Prepayments:

When placing your order over the phone, or over email, our Customer Service team will be able to generate a sales order and allow you to pay right then and there. 

 
Accounts W/ Payment Terms:

With payment terms, you agree to pay for your order within a certain period, usually 30 days (also known as Net30). Accounts with payment terms must be set up in advance, and credit score and credit limit are taken into consideration when determining these accounts.

 
All payments must be made in U.S. dollars, and orders must be paid in full before shipping, unless you have an account with payment terms. 
Refund Process: Contact our Customer Service team about your return, and then send the product right back, as simple as that! Orders returned within 90 days will be refunded to the original payment method. Orders returned after 90 days will be issued as store credit. Once received, please allow 5-7 business days for the refund to appear. 
It is important to note that all shipping and handling fees are non-refundable, and returns must be shipped at the buyer's expense. 
International Shipping
We know that international shipping can be complicated, and we're here to help as we can. We highly recommend working with a professional in your area to help you throughout the process. 
International orders may have additional shipping costs, which are the responsibility of the customer. Because each country does things a little bit differently, it's up to the customer to know how to handle shipments in their specific country. 
Once the shipment arrives at your local customs, you will typically be contacted to pay the fees. It is a much easier and faster process if you already have a broker who can help clear the package through customs. We can provide SDS (Safety Data Sheets) and Product Data Sheets as needed.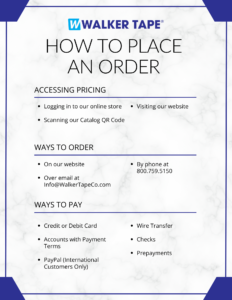 We hope this guide on how to order from Walker Tape® helps! If you are interested in becoming a Walker Tape® customer and putting these awesome services to use, fill out our quick wholesale application here