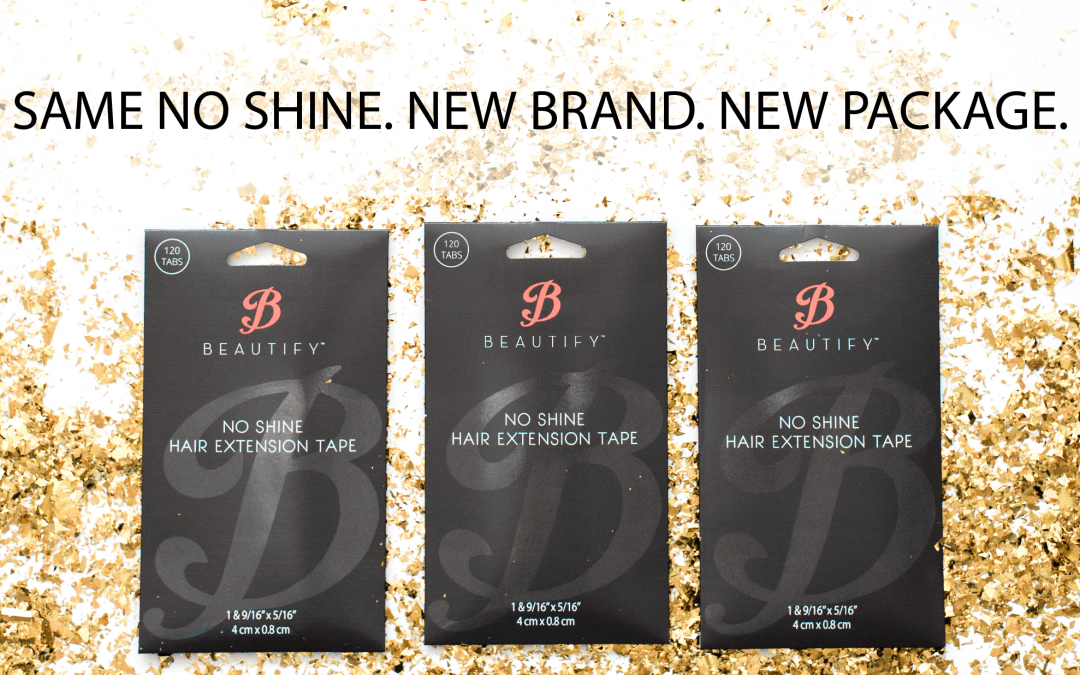 When Hair Extension Tape began in 2007, tape was a new revolution in the hair extension industry.  Since we were among the first to introduce tape to this industry, the name Hair Extension Tape made sense. However, throughout the years as other players have joined in, we've realized that the name now seems a little generic.  Our tapes are anything but generic, so we've decided to re-brand the line and call it something new: Beautify.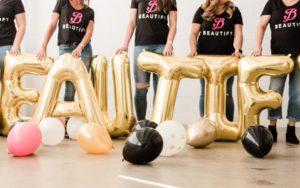 Every quarter we will be changing the packaging on one product. We'll be sure to send you digital images and descriptions one month in advance to ensure you have everything necessary to change things within your business.
Beginning on the dates below, when you order the following products, they will arrive in Beautify packaging:
March 1: No Shine
 
July 1: Extension Release
 
October 1: Duo-Pro
Starting today, any No Shine item you buy will come in Beautify packaging.  It's the exact same No Shine you know and love, it's just in a new package. Additionally, we'll be sending a free pack of No Shine tape, in Beautify packaging, with each order that goes out in the month of March.  Inside the sample pack, you will also find information for an online survey. Just fill out the online survey, and as a thank you, you will receive an email with a discount code to use toward your next order.



Beautify No Shine Tape is known for its flexibility and strength, making it easy to apply on hair wefts.  It is a urethane-based tape that works great for people with sensitive skin. Available in tape tabs that are pre-cut, so there's no worry about having sticky scissors.  Tape rolls are also available for those times when you need to cut the tape to the size you need.
Why people love it:
It's hypoallergenic
It's invisible under the hair extension
It leaves minimal residue during removal
It's flexible and moves with your client's hairstyle
It's comfortable to sleep on
It holds for 4-6 weeks
Available sizes:
Tape tabs: 1 9/16" x 5/16" (4cm x 0.8cm)
Rolls: 1/4" x 6 yd, 1/3" x 6 yd, 3/8" x 6yd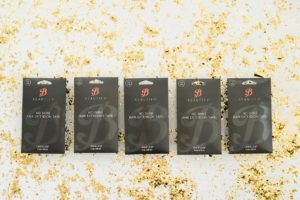 Other products we recommend:
Extension Prep Shampoo – Before installation, and after removal, we recommend using Extension Prep Shampoo.  Our shampoo breaks down adhesive and solvent residue, cleans the hair, and exfoliates. Cleaning the hair more intensely by removing more residue and oils gives the tape a longer, stronger hold time.
No Trace – For removal, we recommend using No Trace.  Our newest and most loved remover works incredibly fast and cleans up easily.  With a gentle, fresh powder scent, this remover doesn't leave any oily residue and is a must-have for anyone who works with hair extensions.
If you're an existing customer, place your order in our online store.  Not signed up yet? Fill out our quick application.  Be sure to include your business license or cosmetology certificate, so there's no delay in processing.