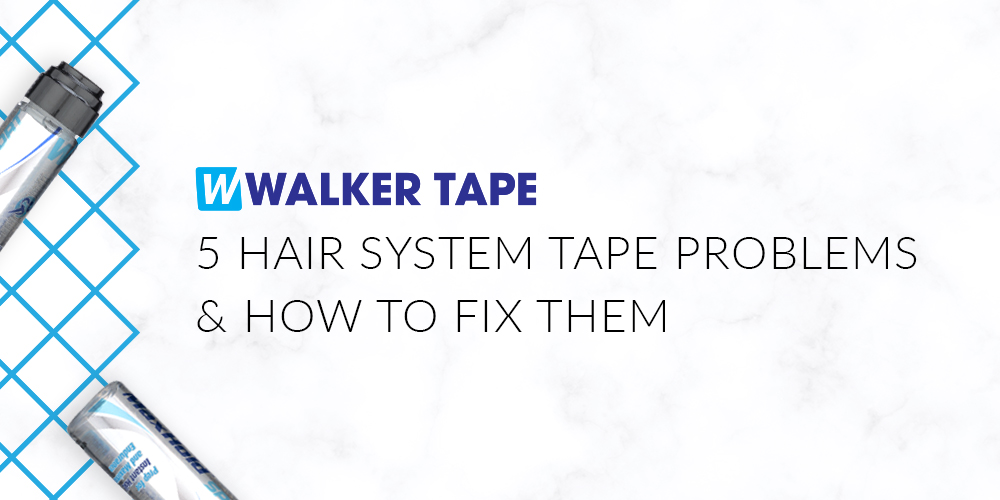 #1: Fixes for Reducing Hair System Tape Failures
Note our inclusion of the word "reducing" failures here. Considering all the challenges that are outside of your and our control, failures might happen from time to time. Bonding to skin is actually taping to one of the most complicated surfaces out there. 
Here are three overall useful tips to reduce hair system tape failures.
Storage Tips
Maintain at Room Temperature (60°F-80°F / 15°C-26°C)

Use Before 1-Year Shelf-Life Expires

Keep Away from Light & Oxygen

Store Dry & Well-Ventilated 
Proper storage is vital because anything and everything can affect tape: light, oxygen, dust, oils, pressure, shelf life, heat, cold, moisture, dryness (see what we mean?). Heat softens tape and can make the adhesive more likely to become gooey. The cold hardens tape, weakening its ability to hold strong because it becomes glassy.
Both light and oxygen also weaken tape, making it brittle and more prone to failing. Then, of course, there's the added factor of time! Make sure to keep track of your studio's tape shelf life, keeping in mind that we guarantee our tapes to last for one year after their purchase date.
Install Tips
The things to watch out for here are what's on the surfaces involved: the hair, scalp, and skin. You want to keep the surfaces as clean as possible. This is why it's necessary to wash your client's hair before the install. The leftover product in their hair weakens a tape's hold. 
This same principle bears out for the hair system too. You want to make sure that the system's base is free of any residual dust, oils, or skin cells. 
Another important consideration is the importance of matching the right tape to the install method. For example, if you're working with hard bonds, then we recommend either using PAT Tape or German Brown.
Looking for even more detail into using our products? Check out the Walker Way! This gives you an in-depth look at what we consider to be the best way of working with Walker Tape. 
Tips for Clients
Wait 24 Hours Before Bathing, Using Product, Swimming, & Exercising 

Wear Swim Cap in Chlorinated or Salt Water
Since our tapes grow stronger after install, we urge you to encourage your clients to wait 24 hours before showering, swimming, or exercising. After this point, our tapes should've grown strong enough to handle these more challenging environments. 
If your clients want to find a way to skip the 24-hour wait, introduce them to our strongest scalp protector, Max Hold Sport. It allows them to go right from your appointment to the gym.
#2: Finding Replacement Tapes for Clients with Skin Sensitivities
At Walker Tape, we offer a diverse portfolio of tapes to choose from. In fact, we've made sure that there are hypoallergenic options in all three hold-time categories. These gentle tapes are great options for you to test with your clients with skin sensitivities. 
#3: Reducing Stubborn Liners on Hair System Tape
Storage Tips
Avoid Piling Anything Directly on Tape

Maintain at Room Temperature 
Tape is known as pressure-sensitive adhesives because their stick responds to pressure. If there is pressure on them, such as sitting at the bottom of a pile, then the adhesives can start sticking to their liners. 
We've created each tape to come with an easy release liner, but these liners can still be stubborn to remove based on how they're stored. We suggest keeping the tapes at room temperature so the adhesive doesn't soften and ensuring that no weight is putting pressure on them.
#4: An Easy Fix to Avoid Crinkled Tape
Storage Tip
Avoid Over-Packing Tape Containers 

Store Dry & Well-Ventilated 
Some of our tapes use softer adhesives than others or may be more delicate or stretchy. For this reason, we suggest keeping them in under-packed containers to avoid the tapes from having to bend or crunch in order to fit. We also encourage you to keep them in well-ventilated areas so the tape doesn't become even softer and more susceptible to crinkling.
#5: Slight Adjustments Needed During Tape Install
Avoid Adjusting Already Set Tape During Installs
If you've already set your client's system, but need to make an adjustment, you are going to need to retape. This is because the tape will take your client's skin cells with it upon removal. These skin-cell additions make the bonding potential of the tape much weaker and surely affects hold times.
Instead, if you need a solution to install adjustments, we recommend using Just-Rite Positioning Spray. It's a super easy fix that allows you the comfort of making adjustments without the headache of having to start over.
Additional Resources to Fix Common Tape Problems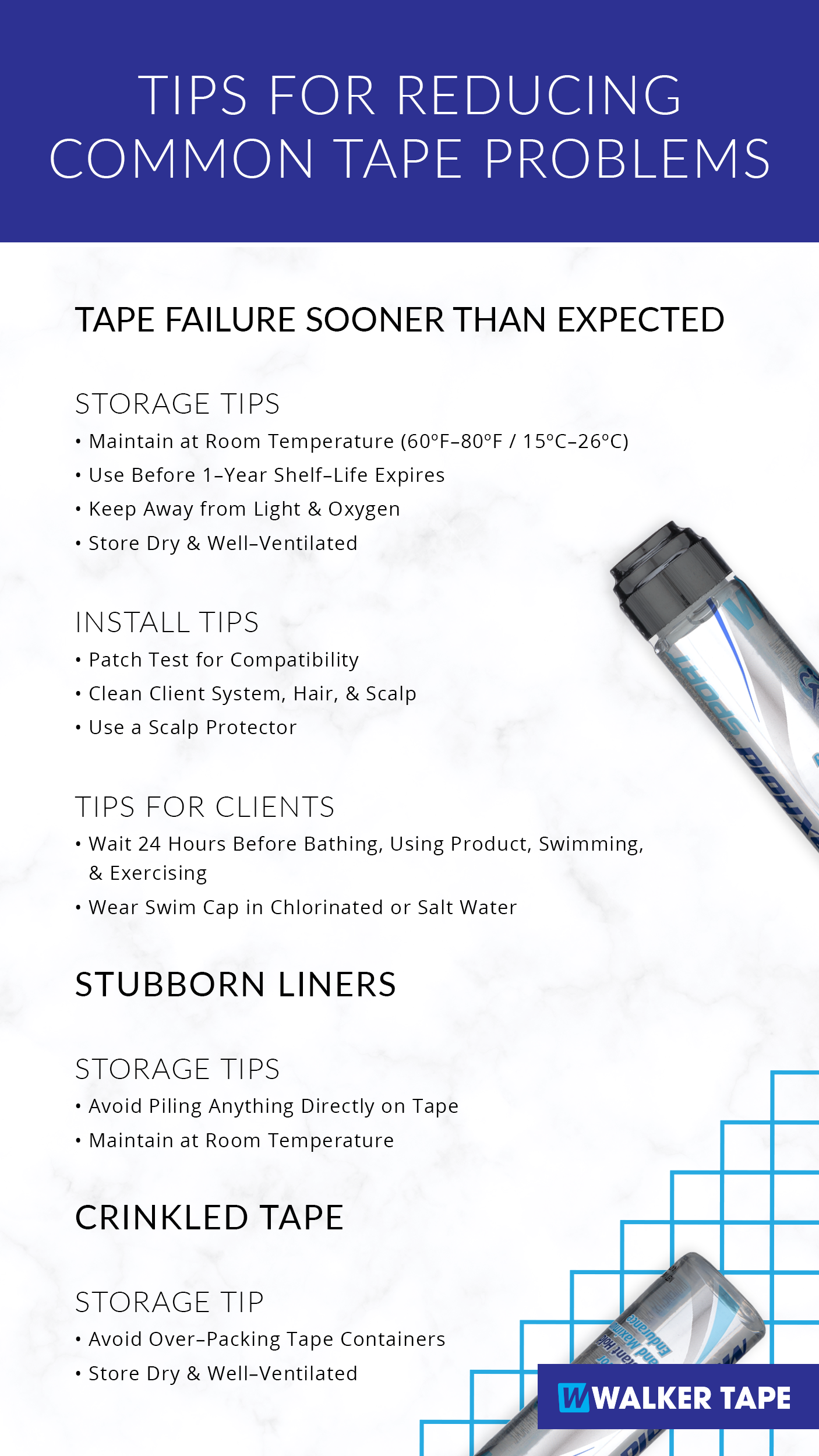 Want to discuss any tape issues you've been having? Call or email us today, and we can help get your tape problems solved!