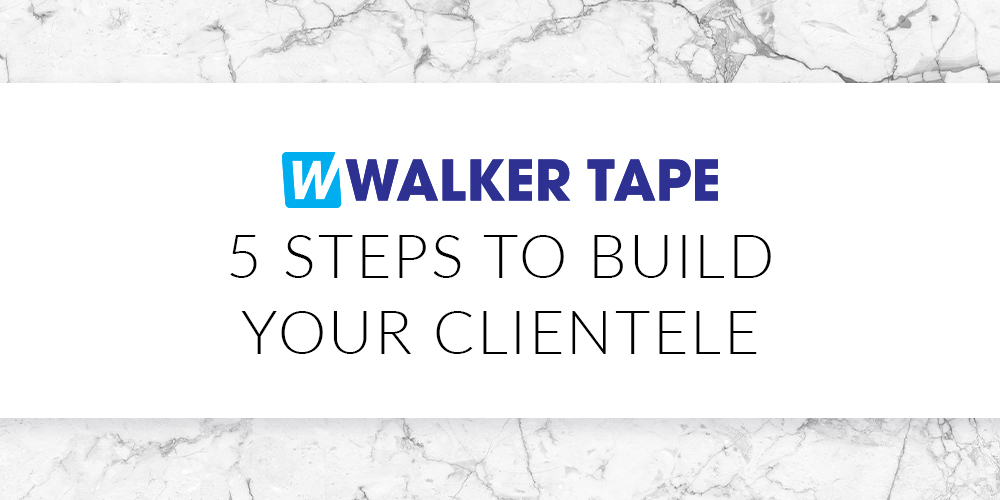 Any stylist knows that the best way to succeed is to have loyal clients who are willing to rave about you to their friends. But if you're just starting out, building up that clientele can seem daunting. How do you even start?
Walker Tape is here to help stylists out as much as we can. So, here are some steps you can take to start building up clientele.
Step 1: Keep Up on Social Media
To start off, let's hit one of the basic parts of marketing yourself as a stylist. You need to have a social media presence. By that we mean one that is separate from your personal account. Create some social media accounts on different platforms that you can use to showcase your skills.
Social media is one of the main ways that people find specialists anymore. So, having a good footprint on at least one platform can help you out quite a bit.
Picking a social media site to use can be a little overwhelming. To help you out, here's a quick breakdown of the three main ones that we recommend for stylists:
Instagram
This is the main platform for a lot of stylists, no matter what kind of hair they specialize in. The main benefits to Instagram include:
Being photo-based makes it easy to show off your skill without worrying about captioning too much
Has a hashtag system that is easy to use and allows people to find you easily
Allows you to tag locations so that people can know right away if you work near them
Facebook
There is a lot that Facebook and Instagram have in common. One thing that does set them apart is the demographic. Instagram tends to be used by a slightly younger crowd and Facebook by a slightly older one. There is a lot of overlap, but the difference is still there.
Picking which one you want to use can depend on the kind of client you're looking for. Other benefits that may sway you include:
Allowing you to post pictures with more emphasis on captions, which is great if you want to share a client's story
Can connect to Instagram so that you can post on both at the same time
Has, in general, a larger user base than most other social media
TikTok
This is a newer social media platform that allows you to make videos from 30 seconds to three minutes long. It has recently become more and more popular with small business owners and specialists. Reasons why more people are turning to TikTok include:
Having a younger demographic than most social platforms
Allows for fun and quick before & after videos
Gives you more creative freedom
Picking the right social media platform (or mix of platforms) all depends on what you're looking for. We recommend Instagram and Facebook for most stylists. In general, they are more user friendly and have a wider user base. But you can play around with each of them and see which one is right for you.
Step 2: Be Responsive
After you get your social media accounts set up, you need to be ready to interact with your followers. This includes responding to people's comments, even if it's just an emoji or saying, "Thank you!" 
You don't have to respond to every comment you receive, just a few will do. People (and algorithms) like seeing interactions like this. It shows that you care and are reachable. Plus, it helps put you on other people's radars.
If one of your clients posts pictures of the work you did and tag you in it, be sure to comment on their post. This can be comments like telling them how good they look or that you enjoyed having them at your salon. Just make sure that you are kind and careful with your responses. Be sure to ask yourself "How would I feel if my stylists sent this to me?"
Step 3: Take Before & After Pictures
Of course, having content for your social media accounts is incredibly important too. One way that can really show your skill is before & after photos.
Check with your client and if they're okay with it, take pictures of them before you start and after you finish. This way people can compare the two and see your skill for themselves.
Just after photos work too, as they give your clients an idea of what they may want. They can come in, show you a picture of a different client, and tell you that they want to look like that. Then you know exactly what to do.
Step 4: Create Business Cards
Next to social media accounts, having business cards is one of the main things you can do to gain new clients. You can give people your card for them to use or to give to others. This way, anyone who is looking for a stylist can use the card to find you.
These cards can vary in style depending on what you like, but everyone will have the same pieces of information:
Name
Name of salon
Email
Phone number
Website (if you have one)
All of your social media handles
This information will make it easy for people to find you, see your work, and book an appointment with you.
Step 5: Always Offer to Schedule the Next Appointment
Finally, one of the best ways to keep people coming back (besides your skill) is to offer to schedule their next appointment. As soon as you're done, offer to put them in your books for next time. 
There are some who may find this tactic a bit pushy. They may even say no. But a good amount will appreciate not having to call you and hope to get in when it's time for their next appointment.
It will show your clients that you're considerate and want to keep them looking great.
There is a secret sixth step that can help keep clients coming back. We call it the Walker Way. If you're unfamiliar with it, it is a philosophy and way of working with your clients that makes them want to come back to work with you! You can read more about it in our blog.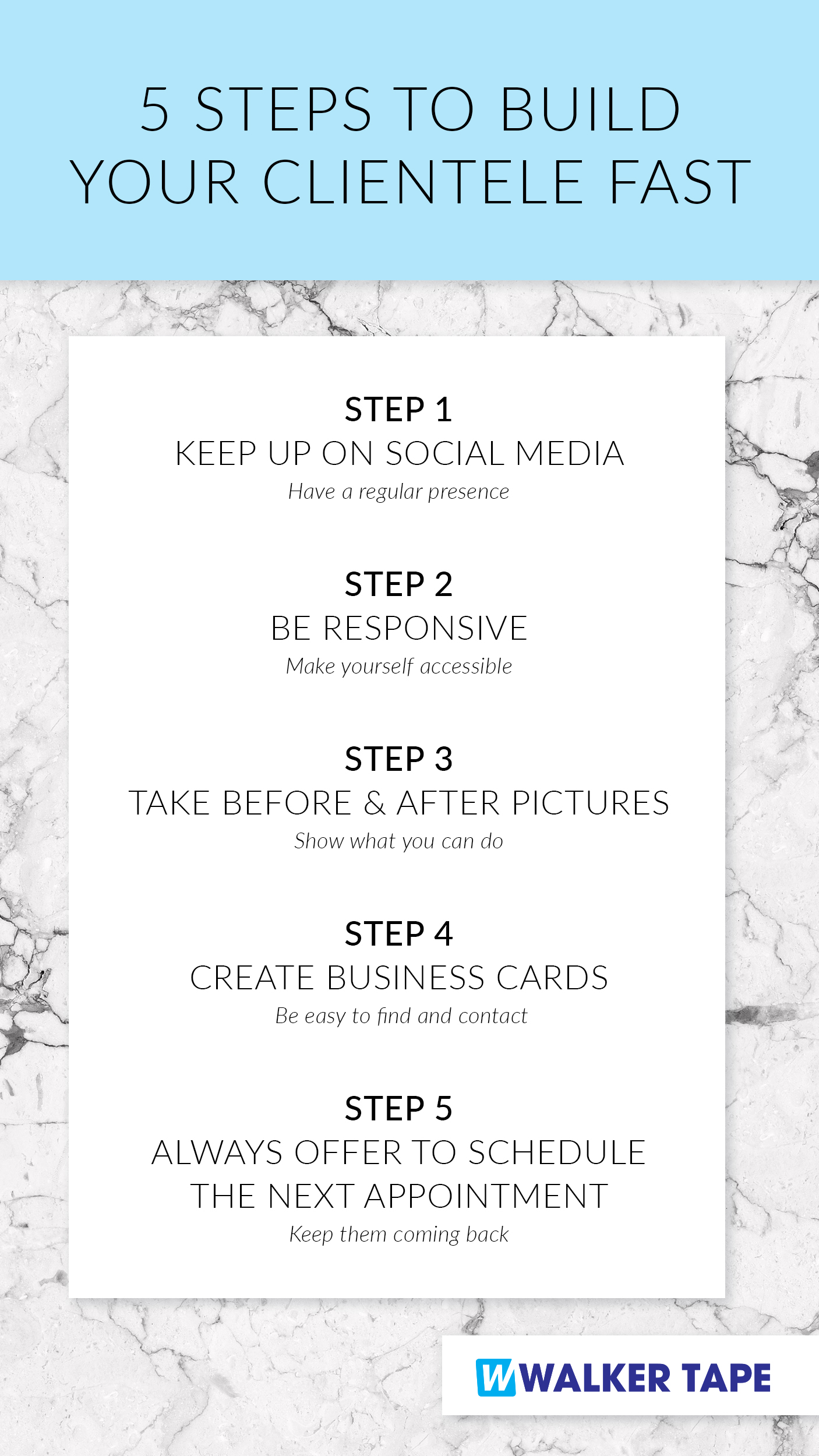 In the meantime, don't forget to check out our tapes and other installation tools. If you have any questions, don't forget to reach out to our customer service team. We'll be happy to help you as best we can.